We are a footloose species; the thrill of new places is unmatched. Some even go the extra mile and move their entire life to a foreign land.
If this resonates with you, maybe you're on the verge of packing yours up and changing countries. We have a suggestion. Why not let that country be Argentina? With a stable infrastructure, friendly society, and ease of living, the nation cuts you a good deal. Let us show you the best places to live in Argentina.
To get to the point:-
Buenos Aires
Mendoza
Cordoba
Rosario
We're talking about high-spirited cities in the lap of the Andes, with a glacier inching along nearby. We're talking World Cup frenzy, siestas, and the world's first animated film. With numerous Nobel Prize winners and psychoanalysts to its name, Argentina is a country worth living in.
Yes, we are also talking about a country that is a perennial economic basket case that doesn't take too kindly to paying its bondholders back, especially if they're foreign, but never let an intermittent default get in the way. I'll explain that a bit more later in this article as it is important.
Below, are four of its major cities thoroughly explored in terms of climate, economy, infrastructure, and cultural environments. So, read on, and see for yourself if life in this Latin American melting-pot is for you!
If you want to get straight to the city that interests you, just click on the relevant section in the Table of Contents.
What Are The 4 Best Places to Live in Argentina?
1. Buenos Aires
Touted as the 'Paris of South America', Buenos Aires is a sprawling city where tango carries late into the night, and neoclassical architecture dots the urban landscape. To anyone looking to make a life in it, the city makes the greatest offering, la dolce vita. A cultural extravaganza and among the safest places to live in, Buenos Aires has a distinct flair for finesse which permeates every aspect of the local lifestyle.
Living in a foreign city is a vibrant affair, and not without its fair share of challenges. But Buenos Aires makes it a smooth ride as far as possible. A visit to the city is an experience to remember, but settling there could be life-changing. This is when one must go beyond eclectic pastries and the endless Malbec, and delve into the essentials – its climate, infrastructure, and a lot more.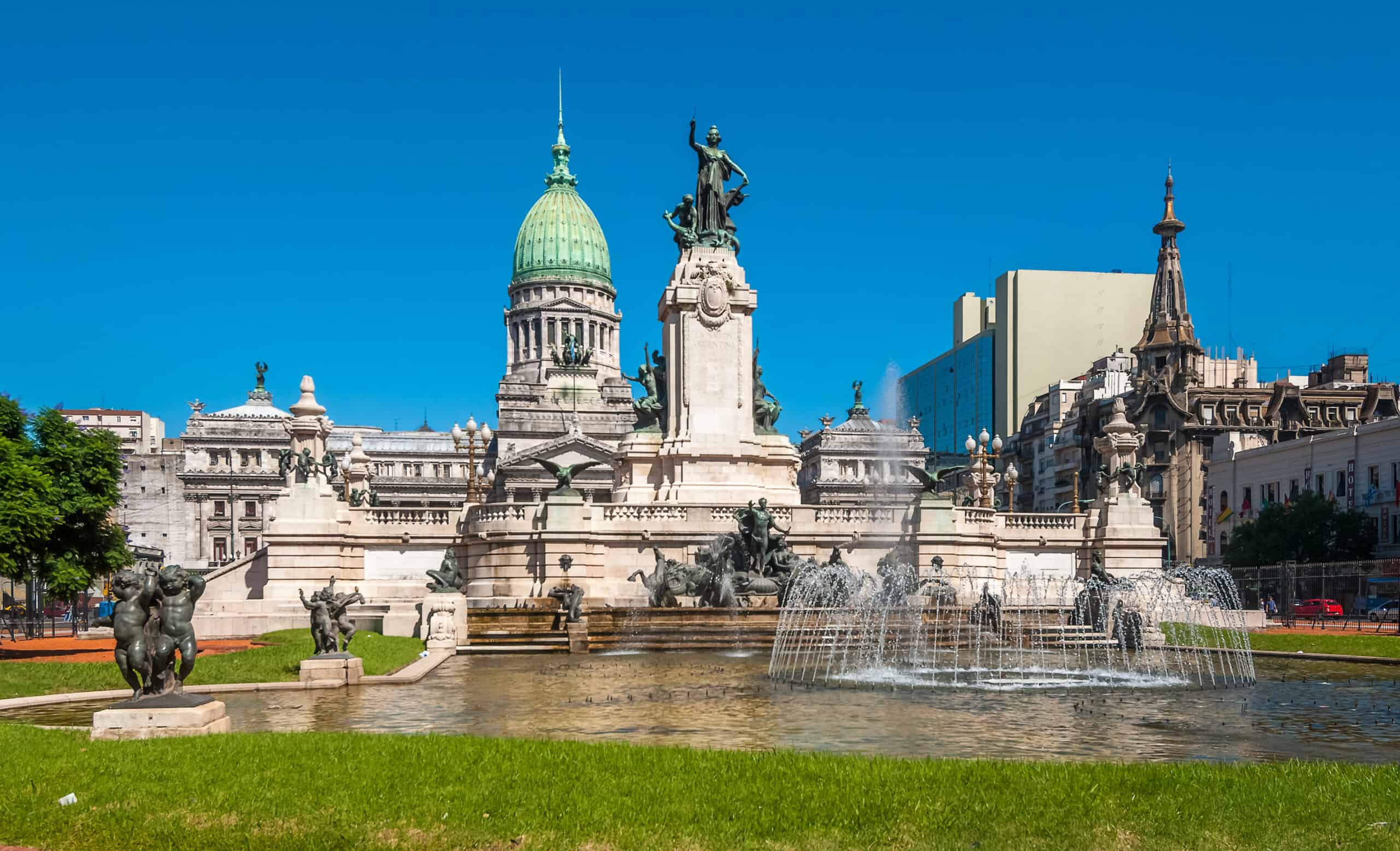 Climate
Buenos Aires is a laid-back city, and so is its climate. Mirroring the temperate coastal plain, no season is harsh on the inhabitants. Warm and bright, through December to March, the mercury hovers around 28 degrees Celsius. Fluctuating temperatures are common in fall as well as in spring, during which the skies can be equally temperamental.
Winters in Buenos Aires are mild. From June to September, average temperatures stay close to 11 degrees Celsius. Winds are usually pleasant, picking up speed only during the storms of September and March. The annual average temperature is 16 degrees Celsius.
The city gets the maximum rainfall in March, with the annual average being 45 inches. Snowfall is a rare occurrence while frost can be expected between May and September.
Economic Stability
Compared to the rest of the country, Buenos Aires offers a relatively stable economy, which isn't really saying much. As the chief port, it contributes significantly to the import and export of commodities, on which depends a sizable fraction of the national wealth. Inflation is rampant in Argentina. However, its capital city has garnered great variety in terms of business. The result is a relatively well-balanced financial system in normal times..
Buenos Aires accounts for about 30 percent of the country's population and 45 percent of its economic activity,
Buenos Aires' dominance often overshadows other major ports and cities. In Ezequiel Martínez Estrada's words, the capital is "the Head of Goliath," and rightly so. While a flailing economic status plagues the country, Buenos Aires keeps its ports open to global trade.
One would hardly think this was cause for concern. However, most ports lack proper infrastructure and are inefficient in handling heavy business. Despite privatization, the transfer of goods from port to market is slow, and proposals to improve transportation have fallen on deaf ears.
On the other hand, the city accounts for the largest share of the country's banking activity. There are specialized markets for meat, cattle, fruit, and grain, and together with the stock exchange, this augments Buenos Aires' stronghold on the national economy.
The majority of jobs are provided by the service industries in the metropolitan region with the  financial district being located north of the Plaza de Mayo.
Bank Accounts In Argentina
A word of caution here because of Argentina's relatively dire economic situation which has resulted in very high inflation, 53% in 2019, and the peso losing value almost daily.
As a result, people were buying US Dollars to protect their savings against this rapid devaluation. Two years ago you could buy a dollar for 36 pesos, today it's 75.
The government has on several occasions in the past elected to bring in exchange controls to stop everyone exchanging pesos for dollars. As of today, an individual can only buy US$200 in currency a month.
My advice is to only bring in money as you need it. The banking wire transfer system works perfectly well. There was a time when the government temporarily froze foreign currency accounts unless the funds were changed into pesos. Be careful.
Healthcare
Buenos Aires has an exceptionally well-structured healthcare system with a large number of public and private hospitals. Neighborhoods are well-equipped with dispensaries, and hospitals face no shortage of beds even for patients who travel to the city for treatment from other parts of the country.
Not only are public hospitals free of charge, but they also remain open 24 hours a day. Doctors and nurses are highly skilled and many are fluent in basic English. Also, in comparison to North America and Europe, private hospitals charge a nominal fee.
Education
With access to a holistic education system, the porteños are among the most literate populaces in the world. Prestigious private universities such as those of Belgrano and Morón make up for the political turmoil in state-funded institutions.
Expats prefer private schools to public ones. With the medium being Spanish and teaching techniques often outdated, the latter mostly cater to local students. However, public education is free of charge.
Private schools offer an excellent bilingual curriculum that is often American or European. However, seats in such institutions are limited and they often charge hefty tuition fees.
Transportation and Safety
The two popular means of public transport are the colectivo and subte. The first is a microbus, frequent and well-connected in its routes. This is widely used and makes for a quick and cost-efficient option. While the subway, or subte, has proved insufficient to accommodate the city's growing population, many stations have been refurbished and service has greatly improved.
Highways radiate out of the city center and seamlessly connect it to outlying neighborhoods. These offer crucial pathways to the four airports located in the suburban towns.
Getting around Buenos Aires is hardly a hassle, and easy on one's pockets. What's of primary importance, though, is safety.
With its abundance of revelry and high spirits, Buenos Aires does not care much for traffic rules. Even with control measures in place, jaywalking is a common sight as implementation of the law against it is scarce. Although the city is relatively safe, it is advisable, especially for women, to travel accompanied at night or opt for cabs. Pick-pocketing is rampant as in most major cities of the world, and expensive personal belongings are best kept out of sight.
Cost of Living
Living in Buenos Aires, for the most part, makes for easy living. The city accommodates expats and locals from all strata of society and the cost of living is extremely budget-friendly. For instance, a sumptuous lunch in an affluent part of the city is likely to set you back only around four to five hundred pesos, which is roughly six dollars.
Alongside this, rent is affordable and amenities such as entertainment and transportation are fairly priced. Also, Internet rates and other essentials are nowhere near exorbitant. In a nutshell, the average monthly cost of a family of four stays within $1,675, while for a single person it is around $735.
Cultural Environment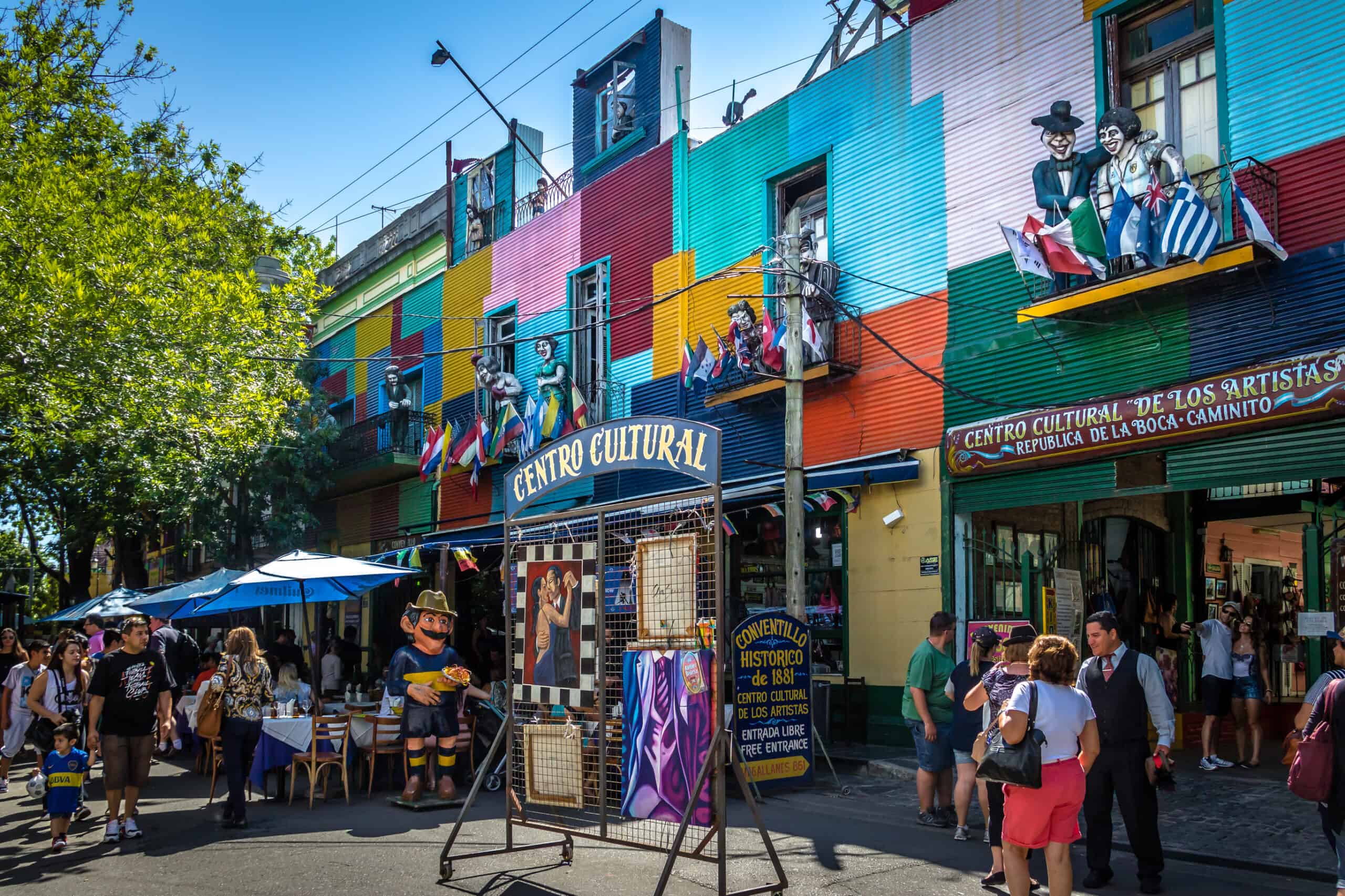 Living in Buenos Aires is a sensuous affair, especially with a cultural scene that's as vibrant as the Argentinians themselves.
With a population predominantly comprising descendants of immigrants from Spain and Italy, the capital is Argentina's most European city. The influences are deeply ingrained in all aspects of the cultural fabric, one where the local neighborhood, the city center, and the entertainment areas become the epicenters of daily life.
Buenos Aires privileges work-life balance. Although porteños exhibit a high tolerance for long working hours, offices usually wind up by 6 p.m. With the siesta providing a convenient break during the day for many, revelries continue late into the night.
The cultural landscape has undergone rapid globalization over the last few decades. North American influences in fashion, food, and music are particularly noticeable. However, the city's gastronomic indulgences continue to be dominated by French and Italian cuisines. Parrilla (grill restaurants) are also especially popular and serve large crowds every weekend.
Cultural life in Buenos Aires is closely entwined with political change. Repressive military governments of the past restricted freedom to a considerable extent, and the air reflects the attitude of the city: joviality with a tinge of skepticism.
Fine arts, theatre, and folk music thrive in all sections of society and the city curates the finest of global influences when it comes to art. Tango, the national dance form, is as prevalent in ballrooms as it is in parks and squares. Buenos Aires, therefore, is a city of openness. One that wears its heart on its sleeve.
2. Mendoza
Think panoramic vistas and overflowing wine; that's the postcard image of the wonderful Argentinian city of Mendoza lying at the foothills of the Andes. When it comes to living, a slow life among leafy avenues is what's on offer. Entrepreneurship is on the rise here and infrastructure is well-developed with excellent facilities for healthcare, education, and entertainment.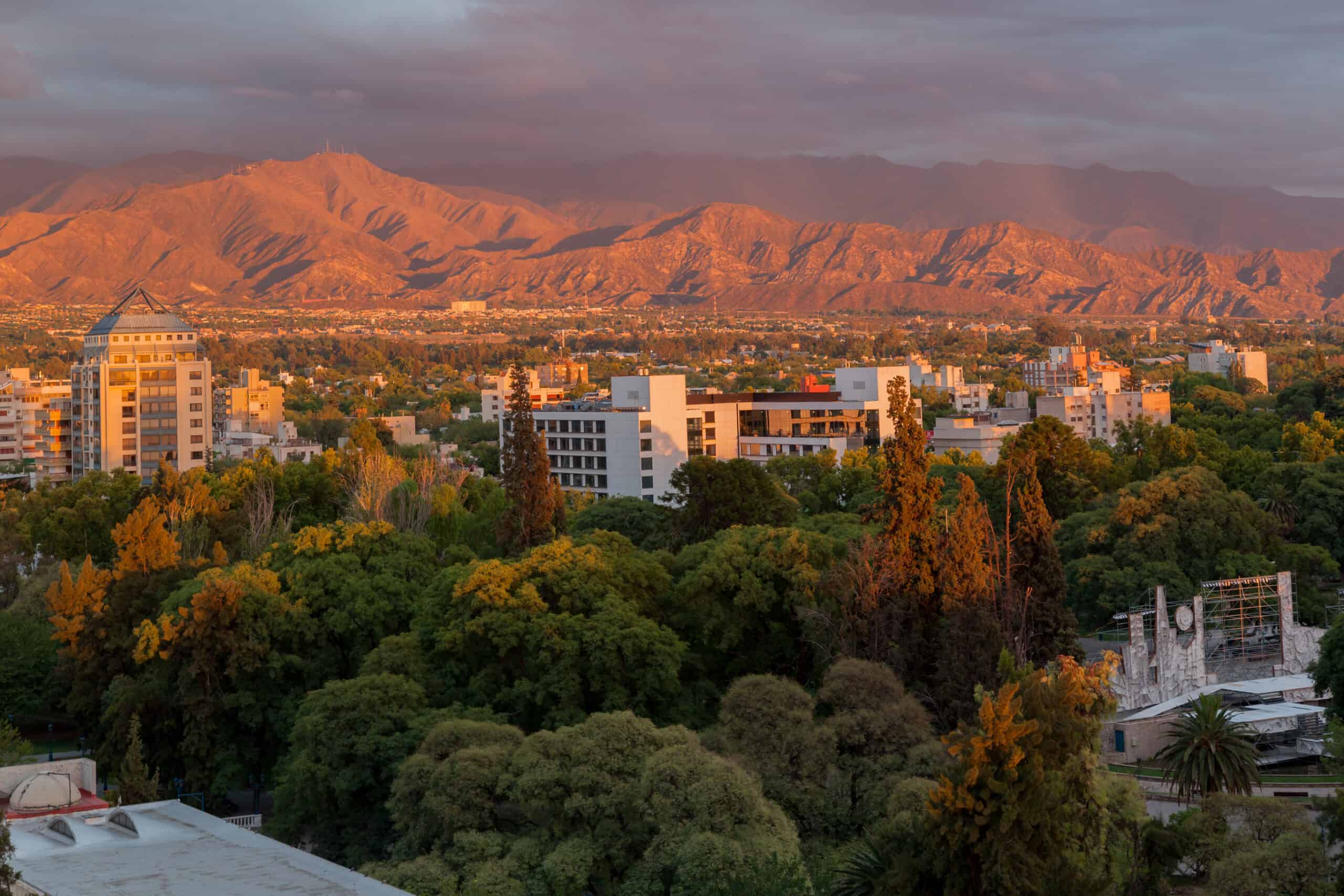 Climate
This wine-growing region is greatly influenced by the mountains that surround it. Its climate remains mild and pleasant all year round; the region is arid. Infrequent rainfall occurs mostly in January which is the warmest time of the year, while August is the driest month.
The annual range is between 15 to 30 degrees Celsius. With the bright sunshine, balmy breeze, and azure skies of the Andes region, one could almost liken Mendoza to California. The significant aspect, however, is the altitude. It varies across the province and temperatures are considerably affected.
Snowfall is virtually unheard of in this Latin American district. Arid but well-irrigated, it allows the proliferation of vineyards and orchards. All things considered, Mendoza is an idyllic paradise for any expat.
Economic Stability
Mendoza comprises an irrigation economy, one that has flourished into a network of agricultural, mining, tourism, petrochemical, and wine industries. This is unusual given the economic crisis in Argentina. But here, the unique topography and characteristic resilience of its inhabitants go a long way in preserving Mendoza's financial stability.
With a GDP of $16 billion, the region's dynamism is reflected in its fiscal equilibrium, something that the rest of Argentina still struggles with. In acting as a bridge between the Atlantic and Pacific, Mendonza utilizes its location to the fullest and is backed by a well-educated and dutiful population.
Expats in Mendoza turn to entrepreneurial ventures such as teaching English and assisting with tourism. Some even found consultation agencies, and schools are perpetually on the lookout for native English speakers. Local newspapers are the quickest guide to job listings. Some of the popular ones include Los Andes, The Grapevine, and Diario Uno.
Healthcare
Mendoza boasts of excellent healthcare facilities where professionals exercise a high degree of competency. Hospital Central is the city's largest and main medical center which sees an influx of patients from all parts of the region.
The system features state-of-the-art techniques and equipment for treatments, and examinations are quickly conducted. However, a certain degree of laxity does prevail and medical staff can be tardy with test-results and general paperwork.
Diagnoses are accurate and the staff, friendly. With a high level of overall satisfaction, healthcare is nowhere near being a concern for anybody relocating to this self-sufficient high desert city.
Education
While Mendoza is no Buenos Aires when it comes to education, it wouldn't be fair to judge the city solely on that basis. Unique in its infrastructure and way of life, Mendoza makes excellent provisions for a sophisticated quality of teaching, although the curriculum may not be as diverse as in the capital.
The Universidad Nacional de Cuyo and the University of Mendoza are the main institutions for higher studies. What sets Mendoza apart in terms of educational expertise is the number of Spanish speaking schools in the region. Popular with expats and foreign tourists, some of these institutions include Intercultural, Green Fields, and SIMA.
Transportation and Safety
The city is well-connected by means of a multifarious transportation system. Buses and tramways connect major points of the province, with long-distance buses carrying passengers at nominal rates. The bus service is especially efficient and delays are uncommon. On the other hand, wineries are well-connected through the tramway.
Taxis are another viable option, although they tend to be more expensive. However, they're ideal for getting around the city if one wants to avoid the congestion of public transport. Women, especially at night, are advised to avail taxis rather than buses as safety is a concern with crime rates on the rise.
However, all is far from lost and Mendoza remains among the safer cities in Argentina. Pick-pocketing and petty thefts are common but can be avoided by exercising caution. Areas frequented by tourists such as Cerro de la Gloria are more prone to crime and also have better policing. However, siestas are a tradition even the police aren't exempt from, and it pays to stay vigilant at all times.
Cost of Living
In comparison to major cities of the USA and Europe, the cost of living in Mendoza is lower by a wide margin. Essentials such as food, transport, and medicine are affordable and the standards are not compromised.
In terms of accommodation, a 2-year lease is a popular option for long-term arrangements as it is economical and involves less bureaucracy. Real estate sells at inexpensive rates, however, expats are usually advised to hire good lawyers to ensure that paperwork is watertight.
Cultural Environment
Life is slow in Mendoza and hours pass at a leisurely pace. But by no means is the culture any less dynamic. Filled with the traditional Argentine goodness, the Mendocino way of life abounds in communal affinity and frolic. Tango is as widely-practiced as in the capital, and the fine arts are institutionalized.
A key point of interest is the Spanish schools that we have already mentioned. Be it for the stunning vistas or amiable society, Mendoza draws tourists and residents from all over the world to learn Spanish among the towering Andes.
Wine is, perhaps, Mendoza's primary claim to fame, and citizens take it upon themselves to celebrate the tradition through a major festival called the Fiesta Nacional de la Vendimia, or the Grape Harvest Festival. Communities and neighborhoods flock together for musicals, tastings, and tango. The sight, no doubt, is nothing short of a spectacle!
Maybe now you see why we think Mendoza is one of the best places to live in Argentina, or anywhere.
3. Cordoba
If you are looking to live out your life in a youthful city rich in the vestiges of yore, then Cordoba is for you. Here, DJs spin electronica alongside 17th-century ruins while you take it all in one of the city's student bars. Cordoba is a fast-emerging urban center with an eclectic mix of the old and new. Shifting here is a smooth affair and newcomers can expect excellent infrastructure and amenities at their disposal.
Climate
Similar to the rest of the mainland, Cordoba enjoys a warm and temperate climate, with summers bringing rain to the province. The average temperature is around 17-degree Celsius.
Summer stretches from March to the end of July and is usually humid and wet. On the other hand, winters are cold and dry and do not last long. However, the mountainous winds brush past the plain often, and the humidity seldom gets to you.
Economic Stability
As the technological hub of Argentina, Cordoba is home to many industries of which automobile is the main. International brands such as Renault, Volkswagen, and Mercedes-Benz have factories that bring considerable business to the city. It also benefits off revenues from the textile and chemical industries.
Cordoba is a leading center for satellite production and software with companies like Motorola, Intel, and Santex employing expats and locals alike. There is also a large market for professional services such as Deloitte, and in recent years a number of start-ups have proliferated as well.
Healthcare
Argentina's healthcare policy guarantees the best on a budget, and Cordoba is no exception to the rule. Doctors and other staff are exceptional in their expertise in public as well as private sectors. While hospitals are well-equipped in both, it's the private ones that have better hygiene and efficiency.
Although public services are free of charge, they aren't suitable for emergencies. Often tardy, procedures can be long in duration.
Many of Cordoba's doctors train overseas, so language may not always be a barrier. Some of the popular hospitals include the British and Italian hospitals, the Swiss Medical Center and Hospital Aleman, which also provide excellent services at reasonable rates.
Education
With the largest student population in the country, Cordoba boasts of six of the finest educational institutes that attract young minds from neighboring countries as well. Among these are the National University of Cordoba and the Cordoba Regional Faculty. The two offer courses in sciences, social sciences, humanities, engineering, and business. Private universities also come a close second.
Furthermore, located in the outskirts of the metropolitan area are The Aeronautic University and the Air Force NCOs School, both of which are prime attractions for the youth from all parts of Argentina.
Transportation and Safety
It's easy to get around a city on foot that has the perfect climate for it. But for times of need, the two modes of public transportation in Cordoba are buses and taxis.
In the suburbs, buses are available which require rechargeable magnetic cards, and a single ride costs about 15 pesos. Taxis, although frequent, are the costlier option. They run on a meter and fares are standard with single rides charging around 150 pesos at most. Fares peak on public holidays and at certain hours of the day (late nights and siesta hours). Also, it helps to learn basic Spanish to get around in Cordoba as drivers rarely speak English.
While it is in no way less safe than other major cities of Argentina, it's best to stay alert as snatching and thefts are rampant in certain parts of town.
Cost of Living
Fairly inexpensive, Cordoba is a city that affords you an upscale lifestyle on a reasonable income.
To the gastronomic expat, it offers a delectable selection of fine-dining options that are easy on the budget. Transportation and essentials such as electricity and Internet services also come at nominal tariffs that can be afforded by the average student of the city.
Entertainment and amenities aside, Cordoba makes for inexpensive living on the accommodation front as well. Rent is cheap, and the cost of living index is 71.44% lower than that of New York City.
Cultural Environment
With students thronging the city, its cultural vibrance comes as no surprise. Museums, music, and dances are popular as is a dynamic nightlife. Cordoba is a high-spirited city that makes the best of its numerous influences.
The cuarteto is a musical specialty that you may often find playing in the lanes as well as parties. Matinées, the dancing clubs frequented by students, also play reggaeton and EDM.
In the central square, Plaza San Martin, stands Cordoba's iconic monument, the Jesuit cathedral with its altar of stone and silver. A grand structure of fine detailing, it is a sight to behold and makes for an impressive landmark.
4. Rosario
With our last suggestion, we are, again, close to the capital. Lying 290 kilometers northwest of Buenos Aires is the port city of Rosario along the banks of the Paraná river. Strategically located at the start of the major trade corridor of Argentina, the city is crucial to national trade and commerce.
But art, also, abounds. Rosario's cityscape is a grand museum for some of the most magnificent Art Deco and Art Nouveau architecture that is found in public as well as residential buildings. Long story short, Rosario is one of Argentina's finest.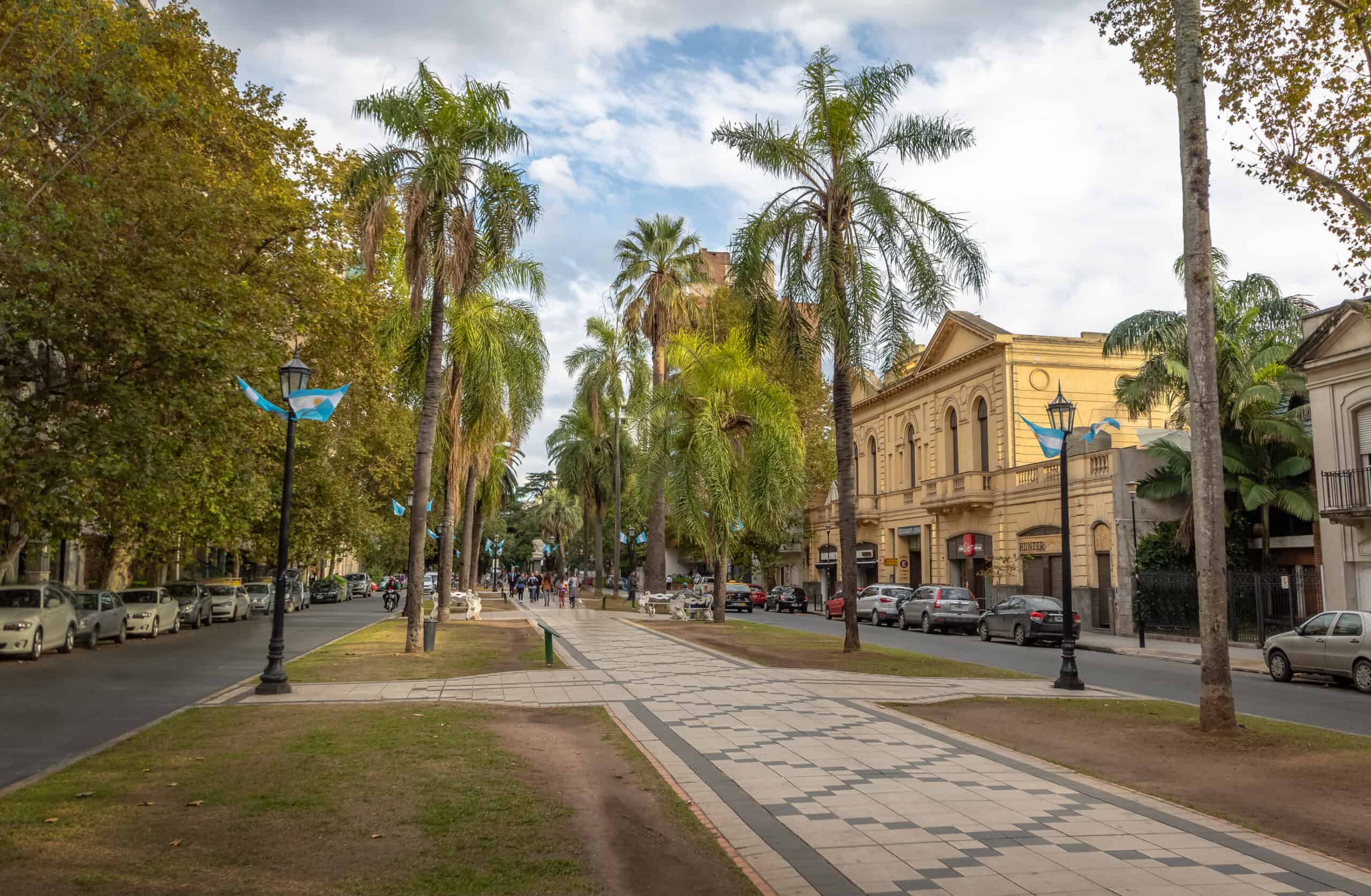 Climate
Rosario stands out for its changeable climes, with annual temperatures ranging from 24 to 12 degrees Celsius.
Compared to the rest of Argentina, winters here are warmer. A number of factors influence this, such as the flat topography, proximity to the river, and a high density of population. Aptly enough, Rosario's Pampean climate makes it the 'urban heat island.'
Snowfall is rare, and springtime, balmy with clear skies. However, this seemingly azure paradise has its fair share of humid days in summer. Hot winds from Brazil blow over the mainland in February and March, and the mercury is quick to shoot up.
Economic Stability
Agriculture forms the backbone of Rosario's well-developed economy, one that generates the second-largest Gross Regional Product after Buenos Aires. It is also a site of oil processing and manufacturing of items such as automobile parts, domestic appliances, and petrochemicals.
The Municipal Bank of Rosario emphasizes ethical banking and small enterprises find equal visibility in the system. Also, the city is home to the country's largest technological center, Polo Tecnológico Rosario, which offers employment to a large fraction of the skilled population.
Healthcare
Healthcare systems remain uniform in most of Argentina's cities and Rosario doesn't deviate from the structure. Both public and private hospitals offer world-class healthcare to residents, and while the former is free of cost, the latter charge a nominal remuneration.
Rosario accommodates 5 municipal hospitals, including a trauma/emergency hospital and a children's hospital.
Education
Education should be the least of your concerns while relocating to the city. Home to the National University of Rosario, it offers an exceptional education in law, medicine, humanities, and architecture among others. State-funded colleges charge no fees but the teaching is par excellent.
The city abounds in private colleges that are equally good. However, it is with much certainty that one can vouch for state-sponsored education while in Rosario.
Transportation and Safety
Public transport is tri-pronged and consists of buses, trolley-busses, and taxis.
The state-owned trolley-bus system runs on one primary line and offers the most cost-efficient option to residents and tourists alike. Buses are frequent with their main terminus centrally located. An improved economy has led the system to flourish with private bicycles diminishing in use by the day.
Rosario's black-and-yellow taxi fleet is iconic. Although a growing population has proven burdensome to their limited capacity, taxis continue to ply without a hitch, especially at nights when safety is a concern. Taxis are also ideal for emergencies and don't charge exorbitant rates.
The issue of safety, if anything, is less pronounced in Rosario compared to other cities. While pickpocketing is rampant in parts, the rule of thumb remains unchanged: a little caution goes a long way.
Cost of Living
The monthly rent of a plush 3-bedroom apartment in the city center is likely to fall anywhere between $350 to $450. That should suffice in giving you an idea of how little it costs to have a good life in this vibrant, urban sprawl!
Rosario is the place to be if a good life is what you envision for yourself, under the blanket of financial security. With both entertainment and essential facilities proving to be reasonable expenses, there is hardly too much to spend your money on even if you wanted to.
However, to each his own, and if you're really looking to splurge, catch an opera at the Teatro El Círculo. How's that for an offer?
Cultural Environment
Messi and Che Guevara, both, called Rosario home. Need we elaborate further on the city's heritage?
Think high art, philosophy, and soccer. Rosario is packed with a number of museums that house exemplary specimens of fine as well as contemporary art. An important port, it boasts of a lovely waterfront that truly comes to life in summer.
If museums aren't your usual haunts, fret not. Walking along the lanes is an experience that both soothes and exhilarates. 20th-century architecture is casually juxtaposed against derelict apartments, a curious sight that reflects the way of life in the city: warm, comfortable, and with just a hint of eccentric.
Before We Go, Let's Talk COVID
---
First, at the time of publication Argentina, as with much of the world, is battling the COVID-19 pandemic.
To say they haven't been very successful would be a fair statement because although the mortality rates are fairly consistent with most countries in the region, except Uruguay and Paraguay (I don't count Venezuela because nobody believes anything they tell us anyway), the economic impact appears to be more severe in Argentina.
The feeling is the government has no idea on what to do other than keep everything locked down. The economy is in dire straits, yet again.
Regardless of that, let's assume we will return to some semblance of normal fairly soon so we can all start dreaming again of that exciting move or trip.
---
Final Words
It's not difficult to find superlatives for Argentina, and the country thrives under the Pampean sun. Robust and warm, its hearty demeanor permeates every aspect of living.
Essentials are taken care of in this country. Accommodation, healthcare, and education are of excellent quality and the expat is often baffled by the inexpensive prices. Relatively safe, Argentina revels late into the nights and that elusive work-life balance is as real as it gets. They're really good at football too.
Although it has largely overcome its political struggles, some tumults remain. The economy, although in some ways stable and flourishing pre-pandemic,  still needs a mountain of work. However, there is a lot that urges you to take a leap of faith and see for yourself.
To sum it all up, Argentina does not disappoint one bit!