Has your interest in Latin America increased to the point that you are seriously thinking of moving there? If so, Then read on, because it's time to get serious about fulfilling a dream many of us share; to live in Latin America. Let's start our series by looking at what we consider to be the best Mexican cities to live in.
The reason that we're going to start with Mexico is not only is it easily accessible for most of us, particularly those in the USA and Canada, but it has everything we need including, for those who want them, pretty well all the comforts that we are accustomed to.
It is also relatively easy to obtain residence there without having to invest a fortune. This is a subject we'll go into in a later article.
Mexico has made enormous strides in the past 30 years. If you go to a shopping mall in any reasonably large sized city there, apart from the signs, you might think you are in a US or Canadian city. When you see the prices, you will almost certainly know you are not though!
Also Mexico offers what many of us crave – a total contrast to our regular way of life. Many of us like to see people riding around on donkeys, in a horse and cart or kicking up dust riding a motorbike or moped, and you will find that, along with the Mercedes, BMW's, Cadillacs, Lincolns and Porsches. It's all here.
Why I have chosen the cities featured here
I have avoided resort towns because I don't find them great places to live in. I have lived temporarily in parts of Latin America and if I am going to be anywhere for more than a couple of weeks, I want to live like a local. In resort towns, you have trouble parking, it's noisy, crowded and the prices are set for wealthy tourists, not your regular folks. I have also noticed crime can be higher there.
Who are the cities I have chosen suitable for?
Young and old.
Singles, couples or families.
Those of you who may want to, or need to, live on a budget.
People who want to see and really experience another part of the world.
Can perhaps do some work remotely to provide an income
Those wanting to learn another language.
Looking to experience another culture.
Wish to work in a new environment – becoming bilingual will be an asset.
If you want to live somewhere totally different but still want many of the "comforts of home".
Prepare
When you plan to move to a new city, never mind a new country, there are plenty of preparations and a plethora of changes that you need to undertake.
The weather is good, the food is fantastic, and the cost of living is cheap, so heading to Mexico is going to be a great experience after all.
You'll find the topography of Mexico as being characterized by a varied range of terrains including temperate highlands, coastal plains, and vast mountain ranges.
Selecting the right climate zone should be a vital part of your decision-making as it impacts the features and desirability of that location. It's okay if you're not clear about certain things in Mexico- you'll have enough time to explore this place after you move.
If you appreciate art and gastronomy, then there are plenty of beautiful attractions awaiting you in these cities. Before you start to pack your bags for moving to Mexico, let's focus on the nitty-gritty of the climate, how to get around the city, the cost of living, healthcare, and education facilities available.
A vital piece of your preparation
A very important point I wish to make here is that no matter where you plan on moving to, please, please rent for a few months first. There is almost a phenomenon when it comes to people buying properties from abroad. There is the FOMO (fear of missing out) factor, where someone has made an enquiry online about a property and end up being convinced that the price is "a steal" and won't last long, resulting in them making a commitment, sight unseen.
You wouldn't do that in your own country, don't do it anywhere else.
Mexico is like most places, the market sets the price. If Jose is selling his condo for $50,000, then Maria will probably want $50,000 for her identical unit also; she's not going to list it for $25,000.
Yes, there are deals to be found, but there always will be. Just wait until you are there.
Always use a lawyer from the same state if possible that speaks your native language. Check the credentials of the lawyer. This is Latin America and corruption is rife. No offence intended, but that is the simple truth. I could write a book on my experiences, so I know what I am talking about.
Much of this goes back to my point about renting for a few months. First, to make sure you like the place, then to get to know how things work and how much property really costs. You'll probably find the perfect place by asking around the neighborhood that you intend to live in, at the right price.
How Cheap Is Mexico To Live In?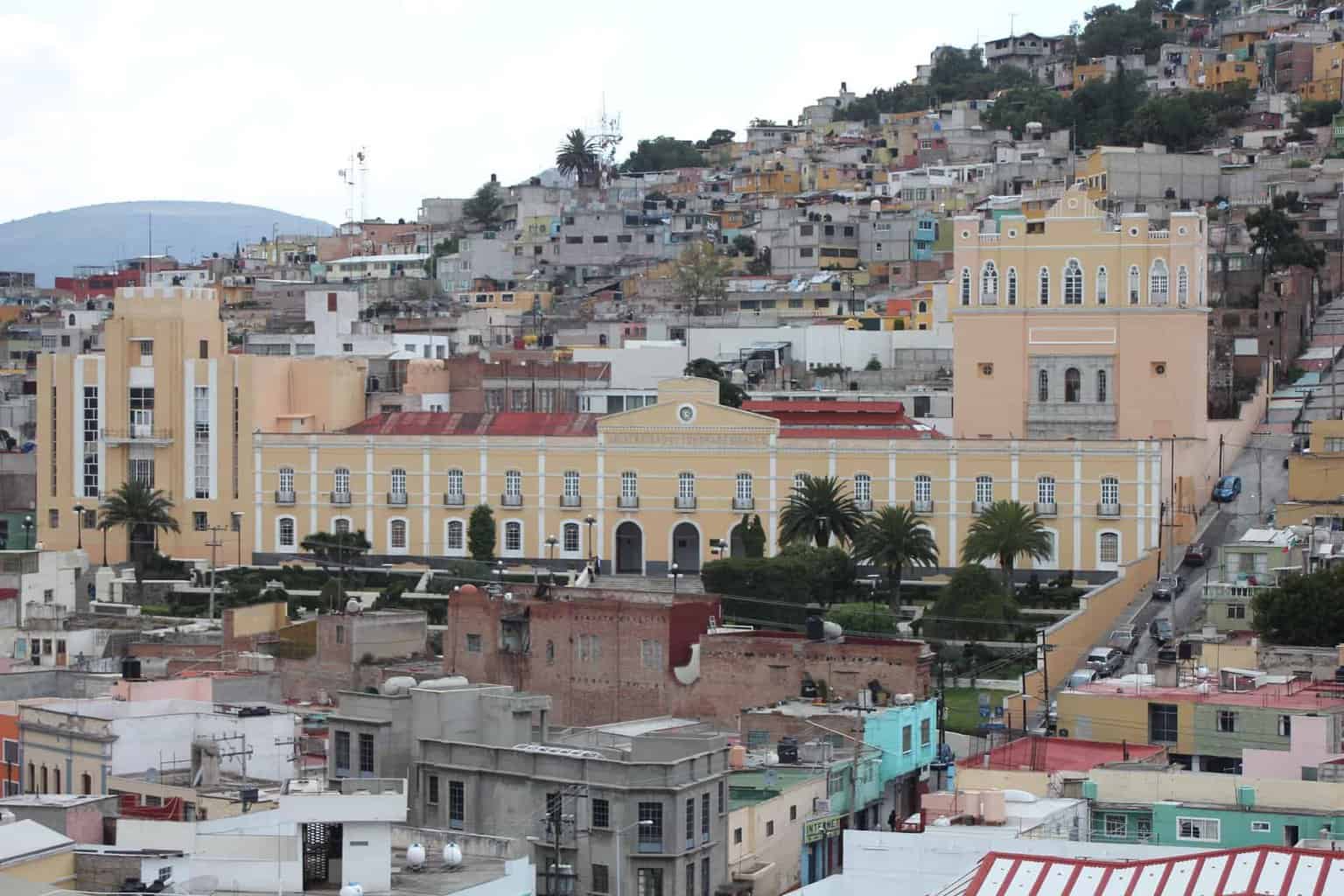 A quick example. For business reasons I now spent between two and three months a year in Pachuca, an uninteresting city that is surrounded by beautiful scenery, about an hour outside Mexico City. I had checked on AIRBNB before I left and found a few places for $25 a night, not bad.
I them went out and rented a fully furnished three bedroom house (I only needed two bedrooms) in a good area, for $185 a month, plus utilities which were another $100 or so. Internet, high-speed with cable, was about $35-$40 a month I believe, but it's cheaper if you sign a longer term contract.
Groceries for three of us, including beer were about $100 – $120 a week, depending on what we wanted to eat, and we could easily have done it for half that amount, but we ate as if we were on vacation.
Within two or three blocks we could buy just about all the supplies, fresh food and drink you could ever need. You don't even need to cook there because the small street vendors and shops seem to have and cook everything, and you would still be within your budget. Within a two minute drive there were two giant supermarkets also.
The house wasn't exactly central but I had a car so it was about a 10 minute drive, or a $2 to $3 cab fare to the city center. Walmart, a couple of high-end malls, cinemas and a whole lot of American style supermarkets were within a 10-15 minute drive.
As my wife doesn't drive, we found a more centrally located house, three bedroom, in a small gated community, for which we pay $320 per month
What I want to say is, it's cheap, OK, and perfectly livable. I could have done it for less than $1,000 per month.
So without further ado, let's delve into the details of what I think of as the four best cities to live in Mexico!
1. San Miguel de Allende
San Miguel de Allende is a classy little Mexican town which was discovered fifty years after Columbus wet his boots to go surfing for a new world.  It is both the cultural and geographical heart of Mexico. It stands equidistant from Veracruz and Puerto Vallarta, which are located on the Gulf of Mexico and the Pacific Ocean, respectively.
When you drive down this picturesque hillside town, you'll find some stunning Spanish-colonial homes of wealthy ranchers and businessmen. In this well-preserved city, there is space for everyone to have a good time, and it has been home to a vast community of foreign retirees.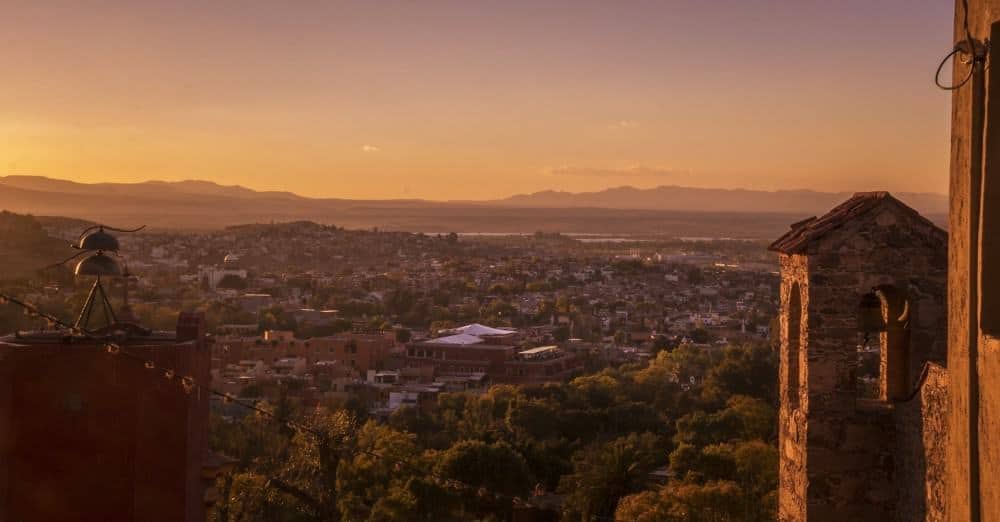 If you're an art lover, then San Miguel should appear straight out of your fairytale. The thriving art scene, colonial architecture, organic restaurants, artisanal craft shops, cobblestoned streets, and the brightly painted buildings give San Miguel the UNESCO World Heritage site status.
a) Climate
At an altitude of around 6,200 feet, San Miguel is dry and warm during the day time, and pleasantly cool at night. It is known as the city with perpetual spring. It will either make you cram every minute of the day with different activities, lounge around in a culture that restores body and soul.
There isn't a terrible time to visit San Miguel; it boasts of having over 300 days of sunshine after all! And it doesn't usually get too hot or too cold during the year (with temperature lingering between 73-90 degrees Fahrenheit year-round).
You'll enjoy the fresh morning air and the toasty afternoons, especially if you're traveling from a colder country. The locals in this city tend to hustle around in the early mornings, and also when the sun goes down.
You'll find a hovering crowd during the winters (high season; November through February); and it keeps getting busier around Christmas season and New Year. Unsurprisingly, the clear days and semi-chilly nights make you want to flock down here to enjoy the holidays.
But it's better to be prepared for rain when you're visiting during the summer season (June to October). It rarely rains all day even though the precipitation rate is quite high.
b) How to get around the city & the cost of living
San Miguel is a close-packed little city, and you can go around places by just walking everywhere. However, you should wear a comfortable pair of shoes and avoid heels while strolling down the streets as they're made of uneven cobblestone.
Unlike Mexico City, Uber is practically non-existent in San Miguel. You might find a maximum of 10 Uber drivers in this whole place. And they can charge you an excessive amount with long hours (double or triple) of expected wait time!
You'll prefer taking taxis, which is a more reliable option. For your rides in and around the city, it will cost you around 60 pesos ($2.50- $3.00). But it can cost you slightly higher like around 70-90 pesos if you're traveling to the outskirts of San Miguel or further afield.
The standard fee when you take a taxi will be 25 pesos, but the rates vary at night. You can also opt for a bus ride that will charge you a flat 5 pesos.
Taking a personal or rental car is not a convenience, but a burden in San Miguel. You'll hardly find any place for parking; it's practically non-existent among narrow streets. It will also be unsuitable to use a wheelchair or a stroller down the uneven pathway surfaces and roads.
Remember, Mexico is a propina (tip) economy. The hourly rates are quite low for your travel arrangements around the city, so the tips make a huge difference to the lives of the local people.
You'll get some charming accommodations with its rent around $700 per month for a one-bedroom home in the city center. But for a two or three-bedroom home it can cost you about $1000- $2500 every month. We are highlighting the cost of lodging in areas which are close to downtown. If you move a little further out, or are satisfied with a smaller one or two bedroom apartment, you can find places quite a bit cheaper,
On the outer limits of the town, you can find a nice one bedroom apartment for around $400 per month, with a two or three bedroom for around $1,000 or less.
About food, your groceries in the organic market can cost about $80 per week. And you might have to spend another $30 for your poultry and eggs. If you're planning to dine out for either breakfast, lunch or dinner, the prices for your entree and a non-alcoholic drink can run up to MXN 300 or $12-$15 USD.
If you love tortillas then this place is your safe haven; you can get a pound of freshly made tortillas for just $4.
c)  Healthcare & Education 
To see a doctor, it can cost you about $60 to $70; it also depends on the kind of doctor that you need to visit. The doctor fees are just based on cash. Your credit cards and health insurance is not of any use in San Miguel de Allende. You need to pay upfront, and then you can send those bills to your insurance company if you have insurance.
Even if you consider the low cost of visiting the doctor, but there is no sacrifice in the quality of check-up that is provided. It usually takes around 30-50 minutes for your average doctor's visit.
You'll also find a broad range of education options for the family, and it includes private schools, public schools, and international schools. You're also allowed to homeschool your children in Mexico. Many foreign expats usually avoid sending their children to the public school as they are pretty crowded,  and they prefer private, bilingual schools.
I have had the experience of sending my child to school in Mexico and I opted for a private school. It was excellent, with caring, attentive teachers.
Final words
You will also appreciate the talent that is prevalent as you go around to get some shopping done in San Miguel de Allende from specialty art, food items, clothing, coffee, organic groceries, and tea. This compact city, which is set in the mountains of central Mexico is a humble abode for many.
And even better- you can bring up your children within a bilingual and bicultural environment.
 2. San Luis Potosi
San Luis Potosi is a beautiful and archaic old town with plenty of exciting art, food, people, and culture. It was founded in 1592, with the discovery of gold and silver deposits. This old city in central Mexico has gained a huge manufacturing focus and has grown to become the leading industrial center.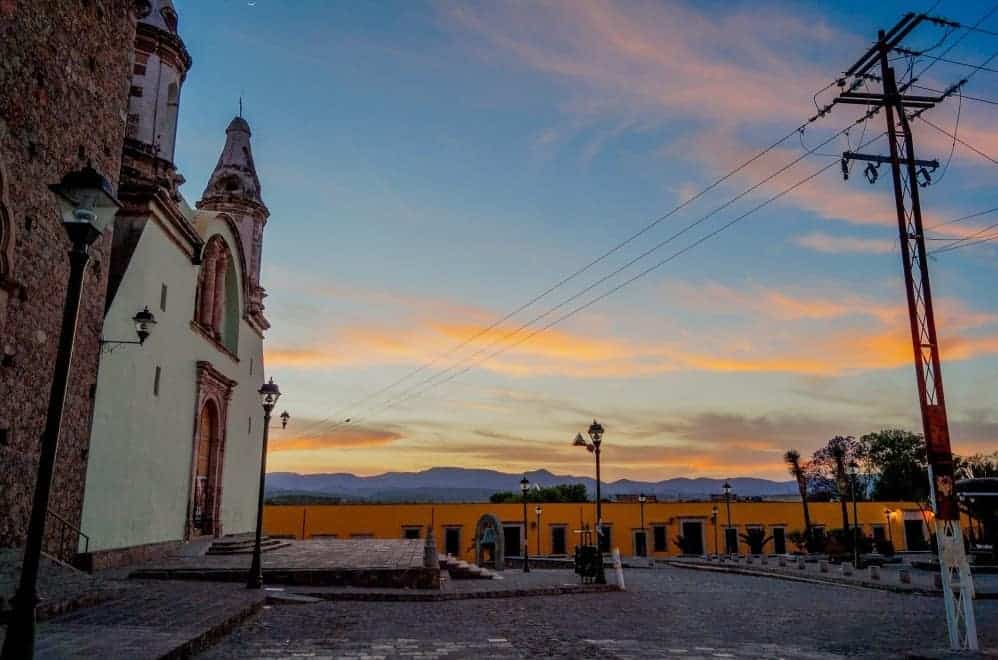 In Mexico, San Luis is one of the fastest-growing cities, with plenty of effort invested in enlarging the industrial sector. Eventually, it has become less tourist-friendly, and it's essential to know basic Spanish if you're planning to move to this city.
This city may not be as "idyllic" as the others in this article, due to the recent industrial growth, but it is a lively, civilized place that will always have something going on. The industrial element also brings jobs to the region so you may find employment opportunities more plentiful.
a) Climate
San Luis Patosi is located at a high altitude of 6,069 feet or 1850 m. The local steppe and dry climate are prevalent almost throughout the year. The summers are short and hot, while the winters are short and cold. You should pack a sunscreen and poncho at the same time!
You'll find the hottest temperature between April and May. But you should be prepared for the monsoons, as the precipitation levels are pretty high from June through September.
The worst part – first four months (January to April)  this city faces drought conditions. And there is another drought period from November to early December. You'll find February being recorded as the driest month of the year.
January is generally the coldest (below 72 degrees Fahrenheit, 22 Celsius) month of the year, with May being the hottest (more than 84 degrees Fahrenheit, 29 Celsius). You'll have the most comfortable weather when the temperature is between 20-30 degrees Celsius. And at the same time, you'll find a swarm of tourists in San Luis Patosi during May and June.
The only difference between steppe and a desert is the average temperature which is recorded and the precipitation level. You can find the prairie getting transformed into a desert with a lack of rain, at the same time the right amount of rainfall can turn it to a meadow. You'll enjoy the greenery during October, especially the lush vegetation on the mountain ranges.
At San Luis Patosi it could be 75 degrees and sunny one day, and 50 degrees and raining the following morning. You should be prepared for fussy weather in this city.
b) How to get around the city & the cost of living
You can take a flight to San Luis Potosi from different places in Mexico such as Leon and Guadalajara in Mexico, or from the US. The airport is at a distance of about 7 miles from the city center.
If you want to purchase a monthly ticket for public transport, then you can get it for MXN 335. The taxi trip on a business day for about 8km is around MXN 141, while the cost of 1liter of gas is about MXN 18.
Your monthly rent for a one-bedroom accommodation in the center of the city can go up to MXN  7,500 in an expensive area. But if you choose to live in a less busy area, then your rent for a studio apartment can be around MXN 5,600. The cost of your essential utilities can range from MXN 900- 1000 for a single person, including electricity, gas, heating, etc.
The monthly groceries for a month can come up to MXN 1,000 – 1,500 per person, and the cost of poultry and eggs will be around MXN 250-300. If you choose to eat out, then an average meal with drinks can cost about MXN 200.
However, the cost of a meal in a fast-food restaurant (McDonald's, KFC, and many others) will be around MXN 150.
c) Healthcare & Education
This city is the industrial and commercial center in Central Mexico with a profuse manufacturing industry. The location of San Luis Potosi is such that it attracts tourism, and many foreign industries have also chosen to invest in this city.
For children, the best private schools that have been recommended to me are El Real and El Andes, which are located in a safe neighborhood. The schools which are most preferred by children of the middle class and the high-middle class families are La Apostolica and El Terranova, which have excellent infrastructure.
To go and see a doctor, it can cost you around MXN 575, but the rates can vary when you're visiting different types of specialists. The price of medicines is quite reasonable in this city, so you don't have to worry about breaking the bank for your medical expenses.
Final words
It might not be the most beautiful city to visit, but interesting nonetheless. San Luis Patosi has a large expat population due to the automotive industry, which has attracted over a million people.
There is no doubt that you'll find a dazzling array of food that you won't easily get in other Mexican cities. You'll find different fiestas (almost every day) that are always coming through town, so it's not challenging to find an event that you're interested in.
 3. Mérida
Mérida has a colonial past and boasts a rich history, culture, traditions, and art. A small stroll downtown will leave you mesmerized with the brightly painted buildings in shades of purple, red, yellow, blue, and pink. It's undoubtedly one of the most beautiful and stunning cities in the Yucatan peninsula!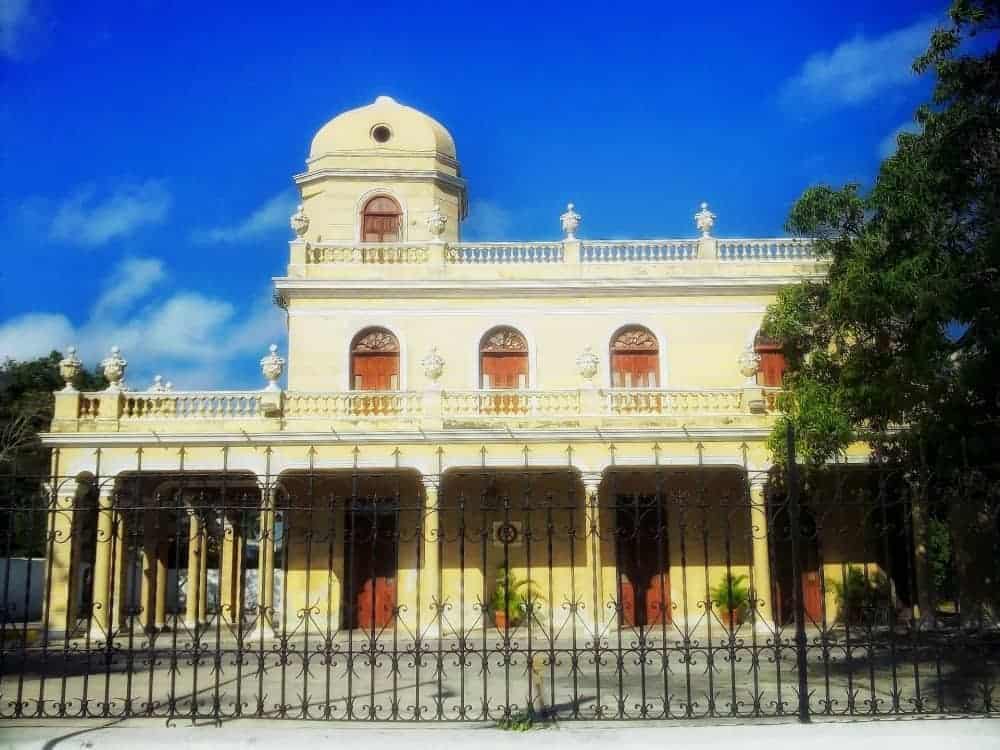 When in Mérida, you're living in one of the safest cities in Mexico, it's artsy, highly cultural, and it's just 20 miles from the beach. The regional gastronomy is impressive, and every dish you eat here is made of fresh produce. The city is as crowded as it is diverse, as lively as it is magical.
a) Climate
Mérida is located at an elevation of 30 feet above the sea level. This city is hot almost throughout the year, while moderate to high humidity is also prevalent. You'll find minimal variation in the average temperature (63F to 97F) with high precipitation level and rain from June to October.
From December to April, the weather is dry, and it usually gets busy at this time.
The high season is during January when the city records its coldest temperature, and it's also the time for Mérida Fest, which is the festival of the year. You'll find it gets sweltering and humid during July and August, due to which, the rates of everything fall. In Merida, the temperature is a few degrees higher than the neighboring coastal areas due to its low elevation and inland location.
You need to be cautious about the weather, which can even bring hurricanes from the Caribbean as well as the Gulf of Mexico. But, most of the year, you'll be giving an excellent workout to your air conditioner. And like the other cities in Mexico, Mérida also does experience a few earthquakes from time to time.
b) How to get around the city & the cost of living
The best way to enjoy this beautiful and the bustling city of Merida is by walking. You'll also find the grid pattern which makes it easy-to-navigate. The buses can cost you around MXN 7, but the public transport system is not a very reliable option until you know the city well. The standard rate of a taxi ride is MXN 20, but after which it will cost you MXN 25 per mile.
You can also rent a car cheaply here from MXN 100 per day, but check that out as it might not include any insurance, etc. However, cars are prohibited during the weekends to enter the city center when the city turns into a haven for market-goers, strollers, tourists, and street artists.
The precise cost of living depends on where you're living and your lifestyle choices in general. To quantify the value of everything, can get tricky, especially when the economy keeps fluctuating. There are thousands, or maybe even millions of Mexicans who are living with an expenditure of MXN 2000 to MXN 4000 per month.
You can either choose to live like a local or live the luxury lifestyle on a lower budget than what you'd spend in Los Angeles. Merida is safe, affordable, quiet, and inexpensive. You'll find almost everything that you need or want from a city such as beach, culture, museums, Spanish colonial architecture, fancy neighborhoods, and many cities within just a few hours drive.
The first consideration of shifting to a new place is housing. In general, you can expect to pay a rent of $400 for a decent one bedroom apartment in the city center, while a decent two to three-bedroom home would run you $600-$750 monthly. The other maintenance charges such as gardening, swimming pool, domestic help, and repairs can cost you around $180 per month.
For the people who usually like to splurge on their grocery shopping, it can cost you about $520-$540. But, you always have the option to find more reasonable products in different supermarkets.
In total, for an average individual, it will cost you around $1700-$3500 per month.
c) Healthcare & Education 
Something that is always on our mind is healthcare. But, you don't need to worry because healthcare insurance in Mérida is less expensive than in the US. However, your private health insurance will vary according to existing preconditions, age, and the duration covered. Hence, it can cost you somewhere between MXN 10,000 to MXN 60,000 per year.
In the field of education, Merida has options ranging from public to private to international schools. You can also homeschool your children, as it's recognizable in Mexico.
Final words
When you walk around the city, the peaceful atmosphere will make you marvel at its beauty. It will offer you urban vibrancy, colonial-era charm, and access to some of the best cultural events, natural reserves, secluded beaches, art, and archaeological reserves.
You'll not find this city too cramped or unsafe. Mérida is like the Mexican heaven, other than the times when you have to be careful about the city buses racing by and honking taxis.
4. Puebla
Puebla is a picturesque town in the mountains, located at just a 2 hours drive from Mexico City. It is as old-fashioned as endearing, featuring modern designs and beautiful colonial architecture. In this picture-perfect colonial city, you'll find a sense of grandeur within the colorful street markets and a glimpse of the snow-capped volcanoes.
It's a pleasure to stroll down the narrow streets of this city as it lives up to its UNESCO World Heritage Site status. Alluring buildings painted with yellow, burgundy, pink, and pale blue colors, with Juliet-style balconies that overlook the tapering, cobblestone streets.
If you like to blend old with new, much of the central part of the city has a chic, modern feel to it, with sidewalk cafes and restaurants. This city has seen it all, and is heavily influenced by not only it's past with the Spaniards, but also the British, French and Portuguese.
The intricate tiles and the stucco designs on the exterior walls of these houses will make you fall in love with this ancient city.
a) Climate
In Puebla, there are two types of prevailing climates such as moderate climate and oceanic climate. The weather is mostly perfect throughout the year; you can enjoy your museum hopping and long walks. And your electricity bills will be low because in this mild climate you won't require air conditioning.
During Jan & Feb and then June through September, you'll experience pleasant weather conditions with average temperatures ranging from 20 degrees Celsius (68 degrees Fahrenheit) to 27 degree Celsius (77 degrees Fahrenheit).
You need to be prepared for the monsoons, as from June through October the precipitation levels are quite high, with frequent rain showers. And if you don't enjoy the storms, then you'd need to be careful in July, which is the wettest month of the year.
You'll also notice the dry periods in Puebla from November to April. In January you'd have to layer up pretty well as it's the coldest month of the year.
If you love outdoor dining, then you'd best do it in the daytime as the nighttime temperatures are usually in the low teens on the Celsius scale (50's Fahrenheit) and even cooler in the winter months.
b) How to get around the city & the cost of living
You can easily find different modes of transport like buses, taxis all over the city. The taxis are not metered, and it can cost you about $5 per ride or more. If you're looking for a metered fare, then you can opt for a radio taxi or Uber services. The most reasonable type of public transport are buses with a tariff of up to $0.50 per ride.
Your rent for a room will differ according to the locality that you prefer to live in. In the upscale neighborhoods of Juarez Avenue and Angelopolis, the rent is higher than the other communities. You might be paying around $500 – $650 for a well-furnished one-bedroom place.
Also, there are apartments on rent for $180 – $300 in Cholula, which is one of the most popular areas in Puebla. You'll find a good crowd of students and young professionals occupying this area.
For grocery shopping, you'll find diverse options for food that cater to different types of budgets. If you want grocery items for a reasonable rate, then you'll get them in the local markets like Mercado municipal San Pedro Cholula and Mercado de la Acocata. You can stock up on your weekly grocery items, eggs, and poultry for about $45 a week.
You'd also find supermarkets like Superama, Costco, and Chedraui where you can pick your groceries and other amenities for the home. But, when you purchase the imported items from these places, you'll be adding probably $15 to $25 to your weekly food bill.
If you're planning to eat out at a local restaurant it can cost you around $6 – $8 per person. At the same time, to dine in an upscale restaurant, it can cost you about $10- $20 for a single meal. But, you'll also get food for low prices with a range of options from taco vans and street food.
c) Healthcare & Education 
Puebla is also known as the city for students. It has great appeal for international students due to the perfect combination of the reasonable cost of living, beautiful weather, and easy access to different amenities. You'd find many renowned universities which offer study abroad programs and exchange programs.
The student community is quite diverse in this city, and undoubtedly they have a great experience while living amongst the rich culture, history and friendly local people. Thus, having a good crowd of international students is an added benefit to the economy.
If you'd like to enroll in the Spanish classes, you can also find dozens of language schools. However, in Puebla speaking or writing in Spanish isn't essential for your everyday life needs, but I recommend it anyway.
There is no need to worry about the quality of healthcare in Puebla because the medical training provided in Mexico is excellent, as evidenced by the number of foreigners who choose to come to Mexico for treatment and surgery, to escape the high costs in the US or the waiting lists in Canada. The starting rate for a doctor's visit is around $30, and it does vary according to the different specialists that you'll be visiting.
Moreover, you can find several pharmacies with a doctor in residence for around $3 who are perfect for minor health concerns.
Final words
Puebla is a prospering Old-World city with a subtle blend of traditional and modern features with its roots dated back in 1531. The diversity of this place is reflected in the modern infrastructure and its cultural attractions. You can be sure to find an exciting event every day in this busy and vibrant city.
Why These Two Increasingly Popular Cities Are Not On This List
Queretaro:
I was tempted to put this on the list, and when I make another one, it may well be included. One possible problem is that as it is Mexico's fastest growing city, some growing pains are showing, including the cost of living which seems to be rising faster than in many other areas. Petty crime is on the rise, but mainly because there are more people and you'll always get a few bad apples.
A quick YouTube search and you will find many fantastic videos/vlogs made by expats who now call Queretaro home. They seem to have inspired many others to make the same move, and it's great to see. Maybe that has had something to do with the rising cost of accommodation, especially in the nicer neighborhoods, although I believe the biggest reason is due to the expanding technology companies moving there, along with an expanding industrial base.
I have only visited here once though, and was very impressed.
Queretaro is not far from San Miguel De Allende, which is on my list, and if I composed this article with only myself in mind, I would probably choose Queretaro out of these two due to employment and networking opportunities as I still need to work.
Morelia:
Another increasingly popular city with the YouTubers and why not? One of the most beautiful and interesting cities in the country, in a beautiful part of Mexico, with the typically friendly locals that you find everywhere really. As far as Mexico goes, this is not the cheapest place, but still way cheaper than resort towns, and the cost of living is a fraction of that in the rest of North America.
It's negatives? Crime is a little high compared to the other cities mentioned here, and it's in Michoacan State. Although Morelia is not included in foreign government advisories as a place to avoid, the increasing cartel violence in the state still is a little too close to home here.
Ready to move yet? 
When you choose to move to a city in Mexico, it's like your cutting your expenses in half. Moreover, as you brush up on your Spanish speaking skills, you'll be able to explore the cities domestically. Is it worth it? Without a blink!
You can experience incredible food, beautiful people, rich history, fascinating architecture, and an easy way of life. Then why not go for it?