Learn Spanish & Travel
The old saying that goes like "the only way to really learn a language is to speak it" stands true even today. There is a great amount of wisdom that went behind the idea because learning a language is more than getting a grip over the rules of grammar.
People who are able to fully immerse themselves in the culture and tradition of the people who speak the language are the ones who learn better than others,and many have turned to the Don Quijote Schools of Spanish Language Learning to do just that.
For those who want to learn Spanish, nothing can be better than living among 524 million Latin American inhabitants and speaking the one common language: Spanish. There are many things that you cannot fathom unless you're on the ground and exposed to real life situations.
Since Spanish is one of the most spoken languages in the world, learning it can open a broader range of opportunities for your career and way of living. And the best way to learn Spanish is to actually travel around Latin America, experience their traditions and customs, instead of sitting idly in a boring classroom, listening to lectures.
Luckily, opportunities of learning Spanish throughout South America are available in plenty and you are free to take your pick. Organizations like the Don Quijote Schools offer various types of courses throughout several countries and offer you a chance to learn Spanish the way it's meant to be.
Why should you learn Spanish in Latin America again? Keep on reading to find out.
Latin America – where dreams come to life!
What makes learning Spanish in South America so enjoyable is the lively interaction with the locals and total immersion in their culture. Some Latin American cultures are more diverse than others while some are deeply rooted in native traditions.
You can choose among countries with indigenous traditions or strong European influence, or even one where the culture brought by the Spanish colonizers has perfectly blended with the indigenous customs.
Peru, Ecuador, Guatemala, and Bolivia have highly influential indigenous roots, which makes them fascinating and overwhelming places to visit. The Caribbean and African heritage, on the other hand, seen in countries like The Dominican Republic and Venezuela provide a very outgoing culture in many different ways. If the way of life in Europe is what attracts you the most, head off to Chile or Argentina.
No matter where you go in South America, the countries will welcome you with an open heart and innumerable places to go and things to see. The entirety of Latin America is so vibrant that you may even not want to leave once your Spanish course is over. But hey, we don't blame you because a lot of foreigners have made this continent their home.
Places to learn Spanish in Latin America
Don Quijote Schools of Spanish Language Learning offers some of the best language schools in all of South America. After making a humble start with the Latin American program in 2004, the school has now expanded from Guanajuato, Mexico to 11 Spanish speaking countries!
This allows the students to take their pick and get the opportunity of exploring an entire vibrant continent throughout their journey.
Some of the places where you can learn Spanish through Don Quijote Schools of Spanish Language Learning are the following:
1. Argentina
Argentina is undoubtedly the most unique among all the Latin American countries. It not only has the second largest landmass in the entire continent, but its population is also quite different from the rest. Argentinians roughly constitute about 37 million inhabitants, who are descendants of Spaniards, Germans, Italians, and other Europeans.
Should you decide to learn Spanish in Argentina, you'll get to know about a country blessed with countless natural wonders. From the deserts of the North to the marvelous waterfalls of Iguazu; from the plains of the Pampas to the wondrous Andean mountain chain, the natural wonders of this country will leave you spellbound.
But that's not all because you can also head over to the cities like Cordoba and Buenos Aires that offer an unparalleled urban experience. The city has lots of things for students to do and see. Here, you'll also meet some of the friendliest people in the world and immerse yourself in their traditions and cultures.
Don Quijote School gives you the option to learn Spanish in Argentina in one of the four exotic places: Buenos Aires, Mendoza, Bariloche, and Cordoba. You can choose between intensive Spanish, private classes, Spanish and tango classes, and volunteer program available only in Cordoba.
Once your heart is set on the magnificent land of Argentina, you'd hardly feel like going anywhere else.
2. Mexico
Mexico is a popular holiday destination for many Americans as well as for a place to learn Spanish. Since Mexicans constitute of the majority of Spanish speaking immigrants in the United States, it makes sense for Americans to learn their language alongside their culture and traditions.
Mexico is a country with a diverse landscape and a plethora of cultural and geographical sites of interest. Here, you'll get a chance to explore the Caribbean and Pacific shores along with the fascinating ruins of ancient Mayan civilizations. Mexico is brimming with so many activities and places to explore that one lifetime may not be enough to cover all.
What makes Mexico a great place to learn Spanish is the fact that this country is full of friendly people who warmly welcome foreigners to learn their way of life. From the warm and sunny days to the lipsmacking local cuisines, you'll be able to make the most out of your time in this country while learning Spanish.
Don Quijote offers classes in Guanajuato, Playa del Carmen (Cancun), and Oaxaca with top-class modern amenities to make the students feel at home. Here, they can either take part in the Intensive Course, Super Intensive Course, or Private Classes depending on their needs and preferences.
For those who enjoy peace and tranquility, Costa Rica would be the ideal destination for learning Spanish. This small country consisting of around 4 million inhabitants boast of having the highest GDP per capita among all the Central American nations. This country is known throughout the world for its efforts in preserving wildlife and exciting mix of different cultures.
Tourists from all over the world arrive at Costa Rica to explore its tropical rainforests, marvel at the pristine beaches, and explore trails where exotic animals such as sloths, white faced monkeys, iguanas, and other flowers and plants rest in abundance. This country is a nature lover's heaven because it has everything they might be looking for.
Costa Rica is a great place to learn Spanish as the country boasts of having friendly people who welcome visitors from all around the world. Even though there are many Spanish schools spread across the country, learning the language from a reputed institution like Don Quijote can make the experience even more enriching.
Don Quijote gives you a chance to learn Spanish either in Santo Domingo de Heredia or Playa Jaco. The courses offered here are Intensive Course, Super Intensive Course, Private Classes, and Volunteer Programs. Costa Rica is waiting to give you an experience that you won't forget anytime soon.
4. Peru
Known as the former hub of the Incan Empire, Peru shares its borders with Colombia, Ecuador, Bolivia, Brazil, Chile, and the Pacific Ocean. That means a lot of opportunities for you to go backpacking in your spare time. With a population of over 25 million, Peru hosts a diverse population consisting of people of the European, indigenous, African, and even Chinese descent.
The official languages of this country are Spanish and Quechua, with most focus going to the former. Here, you'll get to explore three distinct regions: the wide Andean mountains, the Pacific coastal belt, and the famous Amazon rainforest. Nature lovers will find themselves right at home while fans of history and architecture will be fascinated to see the remains of the former civilizations.
Learning Spanish in Peru is a great idea for those who want to explore the architectural ruins of the Incan, Nazca, and Moche civilizations and learn about the wealth of intriguing traditions and cultures of this country. You'll get a taste of South America's diverse geographical landscape, which makes it so popular among the tourists.
Don Quijote School provides Intensive Course, Private Classes, and Volunteer Programs in Cusco, one of the oldest cities in the Western Hemisphere. Learning Spanish here will be a treat because of the vibrant and culturally rich city of Cusco.
5. Cuba
Cuba is perhaps the liveliest country in all of South America as it acts as a melting pot of arts and culture. The people, music, flavors, and colors of Cuba are unparalleled as people come here from all over the world to dance to the beats of salsa, mamba, Conga, Rumba, cha-cha-cha, and many other dance forms.
Learning Spanish in the largest Caribbean island will expose you to the interesting traditions and multicultural atmosphere comprising of 11 million people. Life here is similar to other Latin societies, where people are laid back and friendly to one another without expectations. You'll also find some of the best tasting local cuisines, right here in Cuba.
Despite facing economic and political instability, the people of this one country have risen above every difficulty and continue to spread joy among others. Learning Spanish can be a great experience here as you'll get to enjoy the warm Caribbean sun and the relaxed lifestyle that allows for plentiful room for personal growth.
Don Quijote has their Spanish language learning centers in three places: Havana, Trinidad, and the Santiago de Cuba. The school also provides Intensive Spanish and Dance Classes aside from the regulars like Intensive Course, Super Intensive Course, and Private Classes. Expect all around development when you shift to Cuba to learn Spanish.
6. Bolivia
Bolivia is a landlocked country consisting of roughly 8 million people, mostly indigenous and mestizo population. Stretching along the vast Andes mountain range, this country boasts of having the highest capital city of the world going by the name of La Paz, and Titicaca being the highest navigable lake.
Even though Bolivia is one of the poorest countries in Latin America, their history, culture, and traditions are cherished the world over due to their exotic brilliance. As an academic centre, Bolivia gives you a great opportunity to learn Spanish and interact with the natives to soak in their customs and ways of living.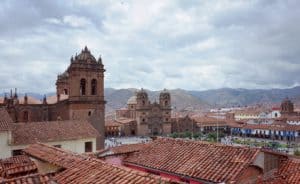 When you discover this country that's full of incredible contrasts, ranging from soaring peaks to bustling cities, you'll barely have the time to miss home. Bolivia is undoubtedly one of Latin America's spectacular destinations, and with Don Quijote, you'll get to learn Spanish through a hands-on approach that doesn't leave anything to chance.
Don Quijote provides Spanish classes in the beautiful city of Sucre that's historically rich and boasts beautiful colonial architecture. Immerse yourself in the Intensive Course, Private Classes, or Volunteer Programs that promise to give you a thorough rundown of the Spanish language and the idiosyncrasies of the people of this beautiful country.
7. Ecuador
This small and tranquil country nestled comfortably between Peru and Colombia has a population of roughly 12.5 million. Ecuador has a population consisting of mostly people of the mestizo or indigenous descent, speaking Spanish as a native language. This small country boasts of an incredible biodiversity that is not present in any other Latin American state.
From the lush jungles of the Amazon to the snow-covered volcanoes, you'll find bountiful wonders of nature in a single country. Adventure lovers also prefer to travel to Ecuador because of tracking, kayaking, mountaineering opportunities that are available in abundance.
For those who are interested in arts and literature, this country will also enthrall them with arts and architecture that go back centuries. From the native pottery and sculpting work to the intricate sheepskin paintings, things of art and culture are on display everywhere.
Ecuador makes for the ideal place to learn Spanish due to the mild weather conditions and hospitable attitude of the people. Don Quijote makes the most of the environment and gives you the opportunity to take part in Intensive Course, Super Intensive Course, and Private Classes in Quito, the second highest capital city in the world. Live among the Andes mountain range and learn Spanish from the best in the business.
8. Dominican Republic
Very few countries are as gorgeous as the Caribbean nation of The Dominican Republic as friendly faces and pristine beaches makes everyone feel welcome. Renowned for its colonial architecture, this country consists of around two thirds of the Hispaniola Island and is situated 600 miles off south-east Florida.
Dominican Republic serves as the gateway between the Panama Canal and Central and South America as this landmass was first discovered by Columbus in 1942. Apart from fantastic natural destinations, you'll be able to explore the bustling capital city and a broad variety of traditions and cultures that intermingle to provide an once-in-a-lifetime experience.
From sampling some of the best cuisines of Latin America to exploring the island's natural beauty, this country gives you tremendous opportunity for complete immersion in its way of life. You will learn Spanish here better than anyone else because of the friendly people who are always more than eager to communicate in their native language.
To make the most out of your time in Dominican Republic, Don Quijote classes give you a chance to learn from the best. Santo Domingo and Sosua are the two places you'll find their classes, which are divided into Intensive Course, Super Intensive Course, and Private Classes. Once the course is over, you'll go back home with memories worth a lifetime to cherish.
9. Chile
Chile, one of the contemporary and prosperous countries of all South America, has something for everyone to revel in. The landmass of this country is a long strip that extends towards the southern end of the world. Much like Uruguay and Argentina, much of Chile's now population are descendants from Spaniards and immigrants from Europe.
This is a true paradise for people in love with nature as the country's astounding climatic and geographical diversity makes up for plenty natural attractions. From active volcanoes and glistening lakes to pristine beaches and damp forests, you'll find it all here for exploration. Mountain lovers can head over to the Patagonia and the Andes Trail as well.
Learning Spanish in Chile is bound to be one of the best experiences you'll ever have because of the countries friendly people and plentiful adventure activities. Enjoy the best of kayaking, fishing, whitewater rafting, scuba diving, bird watching, mountaineering, and many more in between your classes.
With Don Quijote, you get full immersion in your Spanish language classes as the school gives provides for types of courses to choose from. You may pick between the Intensive Course, Super Intensive Course, Private Classes, and Volunteer programs to accommodate everyone's preferences. The classes are held in the city of Santiago, the cultural capital of the country.
10. Guatemala
Guatemala is one of the most intriguing countries of South America that is recognized as the cultural hub of the Mayan world. To say that Guatemala has a long history would be a huge understatement as the territory was civilized as early as in 2000 BC. Originally starting out as farming and fishing colonies, the population went on to become one of the most advanced civilizations.
This country holds a lot of America's ancient history and is comprised of around 11 million inhabitants of Latino descent. The native population comprising of Mayan Indians have still preserved their customs and enriching folklore due to which tourists still flock to them today.
Even though the effects of Spanish colonialism can be seen everywhere, Guatemalans have managed to intertwine their native Mayan rituals with Catholicism effortlessly. With Spanish as the native language, the folks of this country speak over 20 native languages and dialects. For those who are interested in architecture, the colonial structures are bound to impress.
Don Quijote makes learning Spanish an enriching experience in Guatemala as their main centre for learning is located in Antigua, which is also one of the oldest cities in the Americas. You can choose between Intensive Group Course, Private Classes, and Volunteer Programs according to your best fit and needs.
11. Colombia
Situated in the north-western part of South America, Colombia is perhaps one of the most charismatic countries of the continent. With the majority speaking Spanish and having the third largest population consisting of around 47 million people, this country boasts of having it all. From rich historic places to the bountiful natural attractions, stays here are usually enjoyable.
In between Spanish classes, you can explore the pre-Colombian architectural sites, beaches on the Caribbean or Pacific Ocean shores, and numerous nature parks scattered throughout the state. The Spanish heritage of this country is clearly visible in historic places like Bogota and Cartagena, with the people always welcoming tourists with an open heart.
Columbia is the ideal destination for the types of visitors who want to explore the natural wonders and historical places that still remain relevant today. After many years of political instability Colombia is also turning out to have one of Latin America's most prosperous economies with more and more companies investing in their businesses in the country.
Learning Spanish in Colombia can be a highly rewarding experience due to the fact that most people here speak only Spanish. Don Quijote School for Spanish learning has Cartagena and Bogota, which provide both Intensive Course and Private Classes. Learn from the best and see how your career opportunities expand tenfold.
Where will you choose to go?
Don Quijote is an internationally recognized leader in teaching Spanish and is always ready to assist you with whatever you may need on your journey. With qualified teachers and interactive methods of teaching, the school provides personal attention to every student so that they learn the language in the best way possible.
No matter which country you decide to go to, Don Quijote will ensure that you have a top notch experience. With quality stays and world-class amenities, you're bound to feel right at home regardless of which part of the world you're residing. Learning Spanish in Latin America was never this so much fun as it can be with Don Quijote.