Living on a narrow strip of land can be a life-altering experience if that strip of land happens to be Chile.
Mountainous for the most part, this Latin American wonder offers life at its finest and fullest, so we think it's only right to show you what we consider the best places to live in Chile. With a flourishing economy and an excellent infrastructure in tow, living here is like a lucky hand you get dealt once in a while.
In this country, urban accessibility goes hand in hand with natural splendor. Numerous volcanoes, forests, and glaciers mark its landscape, and Chile looks right out of a Tolkien daydream. But before you know it, these rolling vistas give way to vibrant urban sprawls!
Moving to a foreign land is as daunting as it is thrilling and there is a lot to consider. Below, are three of Chile's best cities for expats, each one keenly explored as places for relocation.
Give it a read. You should be able to find your ideal fit!
Best Places to Live In Chile
1. Santiago
Lying on the canalized Mapocho River, the Chilean capital takes a good look at the towering Andes to the east and is a city abuzz with the thrum of life. Fast-moving and clean, the old and the new exist side-by-side in Santiago. With its steadily growing population of over 6.5 million, Santiago is increasingly growing into a hub for independent businesses, and it is a fertile ground for artists as well as entrepreneurs.
With its fine taste in fashion and wine, Santiago attracts people from all corners of the globe. Economy and art both find a place in the cityscape which is a cultural hotbed of the classical and the contemporary. Filled with the good-ol' Latin American fullness, Santiago offers to you a life worth crossing oceans for.
Climate
Falling in the rain-shadow area, Santiago experiences a semi-arid climate with Mediterranean summers and pleasant winters. The former is dry, and the latter brings slight rain. In Santiago, average annual temperatures range from 20-degree Celsius in January to 8-degree Celsius in June or July.
Rainfall in this watershed region is not only scanty, but also highly influenced by the El Niño Southern oscillation cycle. Dry years coincide with the La Niña events, however, precipitation remains average even in the rainiest of times.
The coastal mountains of the city offer a great advantage by serving as a screen against maritime influence on its climate. Humidity remains low as balmy winds from the southwest sweep the landscape in summer. Winters are even calmer. Clearly, Santiago's climate hardly makes any demands on the newcomer!
Economy
As the financial center, Santiago generates 45% of the nation's GDP, with low government debts attracting expats from Europe and the USA like moths to a flame. Over the last few decades, Santiago has seen consistent economic growth that has given rise to a flourishing skyline, excellent education and transportation systems, and retail facilities.
A number of influential global brands find space in the city's commercial fabric. From departmental stores to the couture of Louis Vuitton and Ferragamo, Santiago caters to all sections of its population.
The urban landscape is organized on a financial basis with the eastern half dominating. The former has the largest concentration of private and upscale facilities for both essentials as well as entertainment.
Cost of Living
Santiago offers world-class living on an affordable budget. With rent and public transportation being inexpensive as well as of a high-standard, a sizable chunk of expenses is considerably reduced. By South American standards, Santiago is not that cheap, but compared to North America and Northern Europe, it certainly is.
You should be able to find a decent 1 bedroom apartment for between $400 – $500 in the city center, and about $100 per month less, further out. Utilities such as the Internet, TV, and electricity also come at reasonable tariffs with monthly expenses being limited to $150 on an average.
While public healthcare is either free or highly subsidized, private hospitals can cost you, however health insurance is also available but not cheap. Even then, the average monthly living cost in Santiago should not exceed $2500. In comparison to major cities of North America and Europe, this is a highly attractive location to live in.
Healthcare
With several of its hospitals internationally recognized, Santiago has one of the best healthcare systems in all of Latin America. Public healthcare is free of charge for the most part and subsidized where it's not. The healthcare scheme, FONASA, is publicly-funded and makes provisions for a variety of ailments to be treated.
Although the standard is good, public healthcare procedures can be time-consuming. Expats are required to have residency or pay taxes in order to avail of its services.
Private healthcare, on the other hand, is as efficient as it is timely. Most doctors have trained abroad and speak English fluently. Private hospitals maintain a high standard of professionalism and are greatly preferred by expats. General practitioners, however, are not common as most doctors specialize in certain areas.
As mentioned above, private healthcare insurance is available and while not cheap, it is reasonably priced and well worth the cost.
Education
With a number of universities and research institutes in close proximity to each other, Santiago's education system is a vibrant mix of traditional and non-traditional methods of teaching. Higher education is held in importance, and the city's largest university is also one of Americas' oldest, the Universidad de Chile.
The Pontifical University, or Pontificia Universidad Católica de Chile, claimed the numero uno spot for education in Latin America in 2014. It offers the finest degrees in a number of fields and several courses use English as the teaching medium. Sports facilities ensure holistic education, while students are encouraged to be original and adventurous in their academic undertakings.
Transportation
Getting around Santiago is easy, thanks to its robust system of public transportation consisting of buses, commuter rail, metro, and taxis. Accounting for 37% of the national traffic, the capital's streets are busy but navigable. Transantiago, the transportation system as it is called, has led to a streamlined network with a unified system of payment through a contactless smartcard.
This integrated fare system offers subsidized fees for the aged and students. Costs are greatly reduced, with inter-mode transfers made easy and inexpensive. Taxis, obviously, present the costlier and safer option. However, shared taxis or Colectivos commute on specific routes for a fixed fee.
Uber and Cabify are also available and used frequently by residents and tourists alike.
Safety
As tourism and population both flourish, Santiago's crime-rate has been on the rise. Pickpockets are common and personal belongings are best kept out of sight. In terms of transportation, the same rules apply and in addition to that, it is more prudent to avail licensed taxis that bear the company's logo on them.
However, for a densely-populated city such as Santiago, instances of crime are mild in both frequency as well as seriousness. Most areas are relatively safe, but nighttime outings call for greater caution.
As in much of Latin America, there is occasional unrest among the locals that can result in protests, with the ensuing crackdowns by the authorities. The crackdowns can be swift and violent, so avoid them. These are not common but when they do occur, just as in the rest of the western world, you will know when and where such protests will be held.
Cultural Environment
Santiago contains the largest population of expats in the country. Combined with a rich historical lineage, it's no wonder that the city is a cultural melting-pot. Think leafy boulevards, bohemian quarters, and neoclassical architecture – that's the capital's aesthetics in a nutshell. Carpeting Santiago are several parks, including the Parque de las Esculturas (sculptures), and alongside this thrives a lively nightlife.
Santiago is easily distinguished by its neighborhoods; some are residential and others, business-oriented. Along Santa Isabel Street, one may find the largest concentration of North American and Canadian suburbs. The area offers a slower pace of life, and a vibrant environment for the expat to feel at home.
If one wants a taste of Chile at its finest, the Bellavista barrio, Bellas Artes, and Lastarria are places to be. Bohemian and artsy, these historical centers and downtown neighborhoods offer a glimpse of Chile at its most artistic. Further along is Barrio Italia, set up by artists in the 19th century. With its myriad cafes and antique stores, this remains one of the most endearing parts of town and is sure to charm one and all.
Santiago is a dynamic and prosperous city, and its people are the sort to mingle. Their excellent work ethic seldom clashes with their love for revelry, and for anybody looking to move to the country, its capital would be a fine place to settle in.
2. Valparaíso

A favorite with Neruda, Valparaíso is a darling mess. It imbibes the Chilean air with an unmatched sense of joie de vivre and plays muse to countless poets, artists, musicians, and some 300,000 inhabitants.. Gritty and effortlessly spontaneous, this resilient port-town is delightful in its myriad and easy-going charms.
Home to some of the best street art in the country, Valparaíso's sinewy streets take one on a journey like no other. If this sounds like an excellent vacation spot, then harbor no doubts about its fidelity as a city to reside in. Valparaíso isn't like anything you've probably seen, but it does have a stunning amount to offer and I have no hesitation in recommending it as one of the best places to live in Chile.
Climate
Any city's geographical location influences the mood of the place to a considerable extent and this Chilean city is no exception to that. Its Mediterranean climate brings in dry summers and mild winters, with the occasional fog from the Humboldt current.
Winters are pleasant, with a light chill and rain, though the latter is prone to curtaining the city in a downpour from time to time. This is due to a powerful frontal system that passes over Chile; however, such rains are infrequent.
Snowfall is a rare occurrence, and the mercury remains stable throughout the year for the most part.
Economy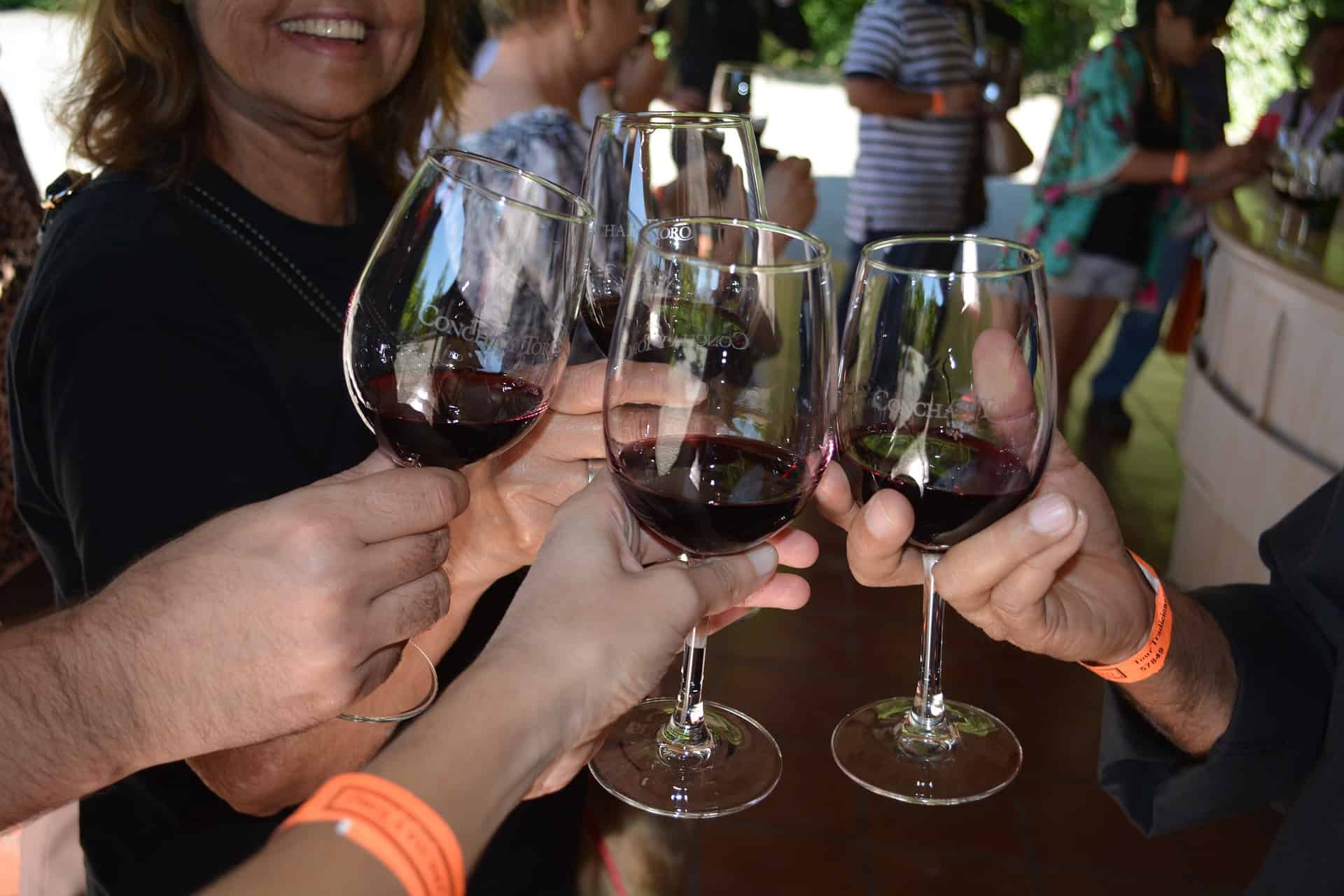 The 'Jewel of the Pacific' boasts not only of enviable urban design but also of a promising economy that supports it. Although not as variegated as the capital, the port city of Valparaíso is backed by a financial system that is both stable and sustainable. The primary sources of commerce are tourism, shipping, cultural exports, and freight transport.
During the summer, about 50 cruise ships dock at the ports of Valparaíso. The 4-month long season sees the influx of tourists and traders from all parts of the world and results in immense business. The port is equally important for container freights and acts as a passageway for Chilean specialties such as wine, copper, and fresh fruit.
Cost of Living
Living in Valparaíso means getting your money's worth and then some. Inexpensive by a wide margin in comparison to cities of North America and Europe, this Chilean port offers an upscale and easy-going lifestyle without breaking your bank.
The average monthly expense of a single person living here is likely to be around $927, while for a family of four it goes up to $2028. Not only are these figures lower than 81% of cities worldwide but they're especially attractive to expats from the EU and the USA.
Healthcare
Valparaíso's healthcare system is similar to that of the rest of the country, though here, Hospital Carlos Van Buren plays an important role. Along with Hospital Valparaíso located on St. Roque Hill, it handles the majority of treatments in the city and is well-equipped to cater to multifarious needs.
There are a number of good clinics such as Clinica Barón by Universidad de Chile, Hospital Aleman, and the Naval Hospital on Playa Ancha Hill. Together, they form a reliable network of healthcare facilities that are available to residents free of cost or for a nominal fee.
Education
Aptly touted as a 'university town', Valparaíso is home to numerous educational institutes both at the primary and higher levels. The Liceo Eduardo de la Barra, Mary Help of Christian Schools, and Colegio San Pedro Nolasco are prestigious public schools that compare easily to private institutions such as Alliance Francaise and Mackay College. The Almendral neighborhood is especially notable for its cluster of premier educational establishments.
Some of Latin America's most eminent institutes are located in Valparaíso, both traditional and non-traditional. The Pontifical Catholic University, University of Valparaíso, and the Santa Maria Technical University attract students from all parts of the country due to their focus on quality teaching. Not to mention, the exemplary Gothic and Renaissance architecture!
Transportation 
It's easy to get around this eccentric city. The transportation system is diverse and comprises a combination of railway service, buses, trolleybuses, and funiculars. The Metro connects the city with neighboring towns and is the second-largest in the country after Santiago's.
For commuting within the city, buses and trolleybuses are the primary means of transport. Both services are regular, efficient, and inexpensive. They are controlled by a state-funded organization and also operate on long-distance routes.
Funiculars are unique to Valparaíso and essential in their service. Given the city's topography, certain areas are inaccessible by buses and require 'elevators', or as they're locally called, ascensores. Ascensores bridge distances between the central Valparaíso and lower slopes of the surrounding hills.
Safety
You can't give the dog a bad name and hang it! Similarly, Valparaíso's bohemian aesthetic often gives the wrong impression to tourists and expats alike. Although tourism has led to increased crime, there's hardly a need to be overly vigilant. In fact, in terms of snatching or mugging, it is comparable to Paris, Berlin, or even New York.
Laxity does prevail, but a little caution definitely goes a long way.
Cultural Environment
Valparaiso is a city for artists who use it as their canvas. Trapeze artists, graffiti artists, musicians, and poets, Chile's vibrant port has been a muse for all. The atmosphere is highly swayed by the proliferation of art that Valparaiso gives birth to, and it infiltrates the urban landscape at every level.
It's no surprise then that backed by the economic structure, Valparaíso has grown into a hub of independent businesses, boutiques, cafés, and designer stores. Art finds appreciation here, and artists, their due. The availability of government funding has helped in the same, and the attraction is real for artists from all parts of the globe.
For the expat, this is all very delightful and new! There are galleries to wander in, powerful street art to decipher, and sumptuous seafood to end the evenings with. Locals are friendly, and will gladly welcome a newcomer in their midst. It's wise to maintain a respectful distance, though, and wait for them to warm up to you.
3. Concepción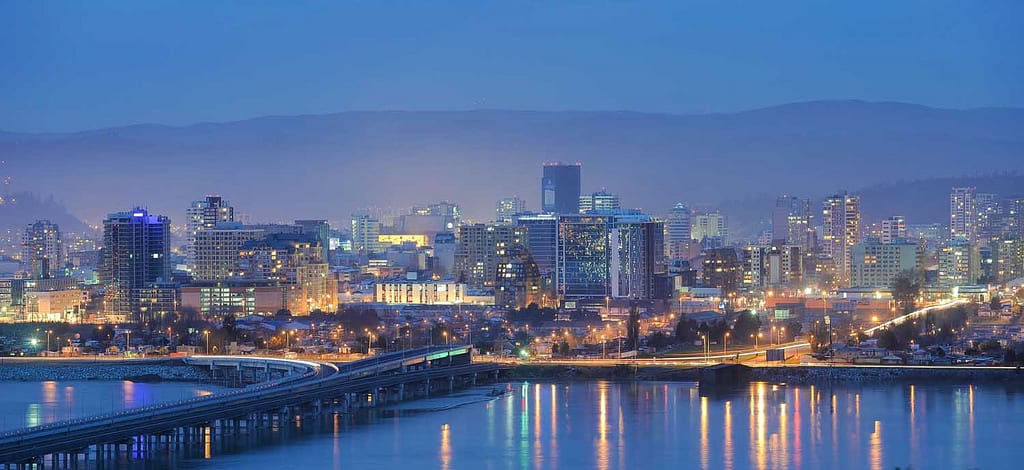 Located in the heart of the country, Concepción is the capital of Chile's third-largest urban conglomerate, and has a population of some 220,000. Founded in the 16th century, Concepción began as a military settlement, and over the next few decades, continued to fall prey to a deluge of natural calamities and political turmoil. In the present day, however, it has emerged as Chile's second-largest city that is populated by the indigenous and expats alike.
Climate
In Concepción, the mercury remains as calm as the Pacific itself, only shooting slightly in the dry summer months, especially February. Temperatures stay between 30 to 0-degree Celsius, and cool maritime weather prevails. Rainfall is moderate and the city receives much of it between May and October when skies can be temperamental. June is usually the wettest of months.
To simplify it further, Concepción's climate may be likened to that as found on the West Coast of the USA. However, annual fluctuations are marginally more prominent, especially with winters being rainier here than, for instance, in San Francisco.
Economy
The region is backed by a strong manufacturing economy that finds its center in the capital city of the province. A significant commercial center, its location is advantageous to agricultural, forest, and hydroelectric industries in particular. Coal mining in Concepción also contributes a fair share to the national economy while railways link prominent tourist-areas on the coast to the mainland. In a two-pronged fashion, this aids the production of seafood while garnering revenue from tourism as well.
The primary reason behind Chile's self-sustaining economy is that every major region functions on a self-sufficient financial system that is also diverse in nature. Concepción is no different. Adding to the above are its steel mills and petroleum refineries. Together with textile, food processing, woodworking, glassmaking, and brewing industries, Concepción's well-structured fiscal policies keep the economy stable and smooth-running.
Cost of Living
Without a doubt, Concepción ranks among cities that are the easiest on your bank-balance. Be it rent, essentials, or entertainment, the average expat from North America or Europe finds themselves expending only a fraction of what they're used to back home. Certainly a perk to consider, we'd say.
A few statistics should give you a clearer picture of the kind of lifestyle Concepción affords everyone who chooses the city. The rent for a single room apartment in the central area is about $350, which increases to $520 for a 3-BHK apartment, again in the center. Needless to say, few places cut you this attractive a deal.
Healthcare
Healthcare systems remain more or less uniform throughout Chile. Concepción's medical facilities are well-equipped to handle a large number of patients, although the situation is disparate between public and private healthcare. The former, though free or subsidized, can be inefficient and lax in administration which is highly undesirable in case of emergencies or serious complications.
Private healthcare, on the other hand, is far more timely and hygienic and offers the highest level of professional care. Although treatment is expensive in comparison, it is a worthy expense.
Doctors and other medical staff are well-trained and comfortable with foreigners, be it tourists or expats.
Education
Concepción is home to a number of eminent educational institutions among which are some of the finest in the country. Comprising a mix of traditional and non-traditional teaching methods and syllabi, these institutes offer world-class degrees in sciences, humanities, and finance. Among them, the Universidad de Concepciòn is the most prominent.
Also in tow are professional institutes such as Instituto Profesional La Araucana, Instituto Profesional Providencia, and Instituto de Estudios Bancarios Guillermo Subercaseaux which equip students from all of Chile with industrial-level training and specializations that greatly help in securing jobs.
Transport
A thoroughly walkable city of quaint lanes and ambling streets, Concepción nonetheless features an excellent transportation system consisting of buses and shared taxis. The two services suffice to reach every nook and cranny of the Chilean center and are inexpensive means of getting around.
There also runs a commuter train service, the BioTren, that improves connectivity between Concepción and its neighboring towns. Greatly useful in emergencies and spontaneous travel, the train makes for a convenient option for newcomers.
It is advisable to learn rudimentary Spanish while in Concepción. Many drivers are far from fluent in English while some exhibit a staunch refusal for any other language apart from the official one.
Safety
Concepción is a relatively safe city by Latin American standards; some would venture as far as to say it is among the safest. With moderate crime rates in certain areas, this isn't too far from the truth.
However, it pays to be cautious as pickpockets lurk out and about the city. Some places, such as the Talcahuano seaport, are also best avoided at night especially if you are a newcomer. Residential areas are comparatively free of crime, although basic safety measures must be exercised at all times.
Cultural Environment
Music comes first for the penquistas! Concepción's air is alive with rock music and the metropolis is the birthplace of many rock bands such as The Los Tres. With a large student population, art and culture find a ready audience in Concepción, and newcomers are welcomed into the scene without hesitation. Aptly enough, it is the 'capital of Chilean rock'.
Concerts are frequent and grand, and art seeps into open, public spaces as easily as it is institutionalized. This is what sets Concepción apart from the rest; it lives to the fullest and ensures you have just as good a time as well!
Work-life balance is highly prized in this Chilean city, and residents often take walks around its streets in the evening. Although densely populated, Concepción offers a relaxed and fulfilling life to whoever might want to give the city a shot, and you will soon come to agree that it is one of the best places to live in Chile.
Final Words
Loving Chile comes easy, but living in it may put off the one unwilling to take that leap of faith. But we say, do it! A country where Patagonian deserts and azure glaciers meet can only go so wrong, and Chile hardly ever does.
It's a country that takes care of you. With an affordable cost of living, and excellent healthcare and education facilities, the perks this Latin American realm offers are many. Expats from Europe and North America are usually stunned at Chile's laid-back attitude at first. But on a closer look, Chileans reveal themselves as a sincere lot who have fun in equal measure!
Chile needs work on certain fronts, that's for sure. But it's a promising land that perseveres in the face of difficulties. It's a country that wears its heart on its sleeve, and moving there might just be the decision that'll change your life for the better!